Paranormal romance author, Coreene Callahan, is used to life, and romance, on the razor's edge.
As the only girl on all guys hockey teams from age six through her college years, my guest knows a thing or two about tough guys. She loves to write about them, too.  Call it kismet. Call it payback after years of locker room talk and ice rink antics, but whatever you call it, the action better be heart stopping, the magic electric, and the story wicked, good fun.
Book Blurb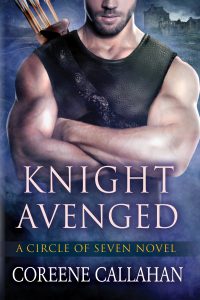 Alone in a world on the brink of war…two unlikely allies will discover a love greater than time.
Exiled from her home, powerful oracle Cosmina Cordei holds the key to uniting those protecting mankind from evil. But just as she makes her way into the holy city to perform an ancient rite, the enemy closes in for the kill…
Drawn by a destiny he won't accept, elite assassin Henrik Lazar detests the mystical curse handed down by his mother. But when the sorcery in his blood is activated and past pain comes back to haunt him, his new abilities come into play and he must learn to control them.
Rescued by Henrik in the heat of battle, Cosmina must decide whether to trust the assassin who loathes the goddess she serves or face certain death on her own. Forced into an untenable position, Henrik is left with a terrible choice—protect the magical Order he despises, or deny destiny and lose the woman he loves forever.
Click on the book cover to listen to the podcast!
Connect Coreene Callahan on Social Media:
http://www.coreenecallahan.com/
https://www.facebook.com/pages/Coreene-Callahan/173981189346509
https://twitter.com/coreenecallahan
http://www.goodreads.com/author/show/5321960.Coreene_Callahan
Great Paranormal Fiction!