Soulfire by Juliette Cross
SYNOPSIS
In a world divided by prejudice and hatred, only love can bridge the chasm.
Tensions are rising in the Gladium Province. The boundary between humans and Morgons has begun to blur. While the human aristocracy strives to maintain distance between their daughters and the dragon-hybrid race, fate has other plans.
As the daughter of the corporate king, Jessen Cade is duty-bound to honor her arranged marriage to a man she detests. Feeling trapped by family duty and a loveless future, she longs for more, straying to the Morgon side of the city.
Lucius Nightwing is the eldest son of the powerful Morgon clan, and the greatest enemy of Jessen's father. When a bar-room brawl thrusts Jessen into his arms, his dragon roars to the surface, craving to sate his carnal hunger in the brown-eyed beauty. The beast in Lucius recognizes her as his own, even if the man refuses to admit the truth.
EXCERPT
I moved into the moonlight. He remained in the shadows. I could feel his eyes on me as I
watched Morgons land on rooftops, coming home for the evening. "How old are you, if you
don't mind me asking?"
In my secret study of Morgons, I'd learned they aged much slower than humans, their
lifespan double, sometimes triple a human's. This also made it difficult to judge their age, since
someone who looks twenty could actually be fifty or sixty. He didn't answer. I turned to face
him, his expression unreadable.
"I'm twenty-seven." A smile creased his face. "Why are you curious?"
"Oh, no reason. I just wondered if you were like fifty. That would be a little weird if you
were my father's age or something."
He studied me for a painfully long moment. "If you're having some kind of romantic
ideas…don't."
The prickly tone in his words sparked something in me. "Why's that? Human women too
distasteful for you?"
"No." Voice deep and gravelly. "You're too soft. I'd break you…princess."
He was goading me on purpose. Why? He'd moved barely out of the dark, light gleaming
over the contours of his wings, gilding the edges silver. I walked around him in a circle. He
swiveled with me.
"Would you mind if I looked at your wings? I've never seen any this close."
He paused. "Be my guest."
Giving me his profile, he unfolded his wings wider, allowing me to observe more closely.
I marveled at the thick-boned structure, the criss-cross of barely visible veins, and the subtle
beauty of swirling ridges. They looked like they'd been molded by an artist's hands. Unable to
help myself, I reached out and traced along the arch at his shoulder, the texture velvety under my
fingertips. Lucius quivered, but didn't move away. I drew my hand back, realizing I'd stepped
over a line. He said I could look, not touch. The sane side of me thought that wise.
He twisted to face me, granite features unreadable. Time stretched where neither of us
spoke a word, falling trancelike into each other under the moonlight.
When he lifted a hand toward my face, I couldn't move, couldn't breathe, wanting his
touch in that moment more than I'd wanted anything. He trailed the back of his fingers and
knuckles across my cheek, along my jaw, under my chin, down the slope of my neck to the
hollow between my collarbones.
"Maybe you are a goddess." Words husky in his throat. He traced back up with
languorous, long fingers, as if learning my face by touch. "A witch, more like."
"Witches aren't real." My voice sounded detached, like it wasn't mine. I was lost in
shadows and sky-blue eyes.
"No? Then why do I feel like I'm under a spell, as if something is gripping me, and I'm
helpless to free myself." His voice dipped impossibly lower, more growl than words, his fingers
lulling me.
"Why are you angry?" For surely the fire in his eyes and his words meant anger.
"I have the compelling need to press my lips to yours. To see if they taste as sweet as
they look. I don't want to, and yet"—he brushed the pad of his thumb along my lower lip, then
the top—"I've never kissed a human woman."
My breath came shallow and quick. "I've never kissed a Morgon man."
He bent his head mere inches from mine. Pressing down on my chin, he forced my lips
apart. "Until now."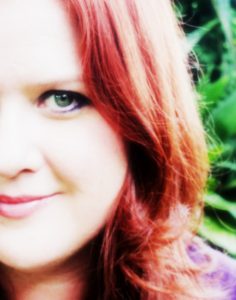 AUTHOR BIO
Juliette calls lush, moss-laden Louisiana home where the landscape curls into her imagination, creating mystical settings for her stories. She has a B.A. in creative writing from Louisiana State University, a M.Ed. in gifted education, and was privileged to study under the award-winning author Ernest J. Gaines in grad school. Her love of mythology, legends, and art serve as constant inspiration for her works. From the moment she read JANE EYRE as a teenager, she fell in love with the Gothic romance–brooding characters, mysterious settings, persevering heroines, and dark, sexy heroes. Even then, she not only longed to read more novels set in Gothic worlds, she wanted to create her own.
Buy Links for Soulfire:
Amazon: http://www.amazon.com/Soulfire-Nightwing-Juliette-Cross-ebook/dp/B00MMMGY1S/ref=sr_1_3?ie=UTF8&qid=1409435651&sr=8-3&keywords=soulfire
Barnes & Noble: http://www.barnesandnoble.com/w/soulfire-juliette-cross/1120138661?ean=9781616505615
Author Links:
Website: https://www.juliettecross.com/
Facebook: https://www.facebook.com/juliettecrossauthor
Blog: http://www.juliettecross.com/blog
Twitter: https://twitter.com/Juliette__Cross
Pinterest: http://www.pinterest.com/crossjuliette/
Goodreads: https://www.goodreads.com/author/show/7795664.Juliette_Cross
Newsletter: http://eepurl.com/XeKIn
Sneak Peeks are our way of helping readers find new books and authors and get previews. Please share and/or comment! Thank you!