I have to tell you, I had a great time sitting in for Renee Bernard tonight on The Romance Bookmark!  I had the pleasure of chatting with New York Times and USA Today Bestselling Author, Carrie Ann Ryan.  She's written over twenty six novels and novellas and her titillating romances, both Paranormal, and her new Contemporary series, offer readers a thrill ride going from slow burn to full out inferno!  The highly popular, Redwood Pack series, and the Montgomery Ink series are the tip of the iceberg when it comes to Carrie Ann Ryan's "Irresistible characters, and seductive romance!"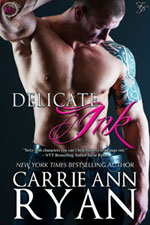 Book Blurb:
A Brand New Full Length Novel in the Bestselling Montgomery Ink Series

On the wrong side of thirty, Austin Montgomery is ready to settle down. Unfortunately, his inked sleeves and scruffy beard isn't the suave business appearance some women crave. Only finding a woman who can deal with his job, as a tattoo artist and owner of Montgomery Ink, his seven meddling siblings, and his own gruff attitude won't be easy.
Finding a man is the last thing on Sierra Elder's mind. A recent transplant to Denver, her focus is on opening her own boutique. Wanting to cover up scars that run deeper than her flesh, she finds in Austin a man that truly gets to her–in more ways than one.
Although wary, they embark on a slow, tempestuous burn of a relationship. When blasts from both their pasts intrude on their present, however, it will take more than a promise of what could be to keep them together.
Connect with Carrie Ann Ryan on Social Media:
www.carrieannryan.com
https://www.facebook.com/CarrieAnnRyanAuthor
https://twitter.com/CarrieAnnRyan
http://www.goodreads.com/author/show/5360266.Carrie_Ann_Ryan
http://www.pinterest.com/carrieannryan/
Great Paranormal and Contemporary Romance!