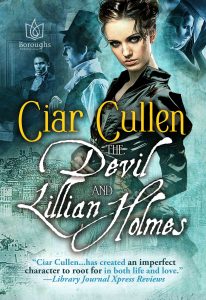 A detective, a woman ahead of her time, a vampire, no. A mortal, no, maybe. The Devil and Lillian Holmes is the latest in Ciar Cullen's paranormal romance with vampires and steampunk goodness.
Lillian is determined to become the greatest female detective in America. After all, her the niece of Sherlock Holmes at least in her own imagination. She is an orphan, a modestly wealthy heiress searching for a daughter she had at sixteen. Lillian is imperfect, but touches the reader in ways you don't realize until you finish the book.
In her search she is 'saved' by George, discovers a dark side of Baltimore that should only exist in dark imaginations, and lands in a swarm of vampires. Lillian is insecure, and sips morphine to not only prop her courage but to deaden inner pain. This however does not quell her stubbornness or her determination.
George is a man who saved her, changed her, and steals her heart — and soul.
Filled with some of the most unique characters I've read in a book, readers will get lost in the foggy underside of Baltimore at the turn of the century. A truly beautifully written paranormal romance with enough intrigue to keep you turning the pages.
Find out more about author Ciar Cullen and her books by visiting her website.