Whether you are searching for warmth filled holiday books for yourself or as a gift, here are a couple of inspirational books that will fit you list.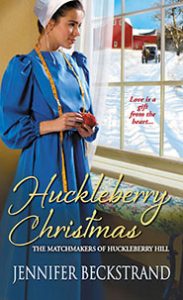 Huckleberry Christmas by Jennifer Beckstrand
Now that they've happily married off two of their grandchildren, Anna and Felty Helmuth are ready for their next matchmaking challenge. What better way to celebrate the most heartwarming of seasons–and make Huckleberry Hill, Wisconsin, the place for unexpected love. . .
A difficult marriage has left the Helmuths' widowed great-granddaughter, Beth, finished with wedlock. She's content to live with them and make a life for herself and her toddler son. But once she turns down handsome Tyler Yoder's proposal, it seems only fair to encourage him to find a suitable wife. Trouble is, his gentleness and generous ways are showing her how joyous a real meeting of hearts can be. . .
After a failed courtship, Tyler thought the best he could hope for in a wife was mere companionship. But spirited Beth is the one he longs to protect, and hold close. Earning her trust is the hardest thing he's ever had to do. And soon, both will discover that forgiveness and understanding are gifts that only rekindled faith–along with the happiest of holidays–can bring.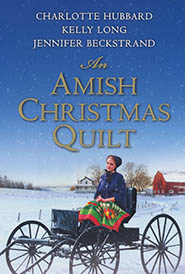 An Amish Christmas by Charlotte Hubbard, Kelly Long and Jennifer Beckstrand
With all the warmth of a cozy quilt, three authors stitch together Amish tales of hearts joined, friendships patched, and the bright joys of Christmas tradition . . .
A Willow Ridge Christmas Pageant
Charlotte Hubbard
Seth Brenneman didn't expect his holiday would include rescuing pregnant young Mary Kauffman and her two children. . .or having unexpected feelings for the still-grieving widow. But when they must play the leads in an impromptu live Nativity pageant to help his Amish community, will their roles reveal their hearts–and work a miracle for a lifetime?
A Christmas On Ice Mountain
Kelly Long
Matthew Beider and Laurel Lapp's secret wish to marry is a gift their feuding fathers definitely won't accept. And trying to settle their dats' long-standing quarrel is making their holiday anything but merry. Can rediscovering the joys and friendships of Christmas past finally turn their families' futures bright?
A Perfect Amish Christmas
Jennifer Beckstrand
Anna and Felty Helmuth's grandson, Gideon, plans to spend Christmas on a beach in sunny Mexico. But Anna is quite sure he'd rather be with them, snowshoeing, ice fishing–falling in love. And she knows the perfect girl. Not only is Dottie Schrock an excellent quilter and baker, she's having a party. There's just one complication–Gideon is not invited. Dottie has her reasons, but Anna trusts that the spirit of Christmas–and true love–will change her mind, and her future.
You can find more information on these titles and others, at Kensington Books.