Tyora Moody is a woman that wears many literary hats.  She's an award-winning author, Social Media expert, and an entrepreneur.  She has coined her fiction books as Soul-Searching Suspense. Her debut novel, When Rain Falls, was the first book in the Romantic Suspense driven Victory Gospel Series.  The final book in the series, When Perfection Fails was released a few months ago.  She serves up a creative mix, flavored with FAITH, as well as Cozy Mysteries.  Deep Fried Trouble, the first book in the Eugeena Patterson Mystery series was released last year, and the second book, Oven Baked Secrets will be released next month.  In her capacity as a literary-focused entrepreneur, she has assisted countless authors with developing an online presence via her company since 1999.  Popular services include online publicity, social media management, book trailers and book covers.  I had the pleasure of catching up with Ty, and I'm glad I did!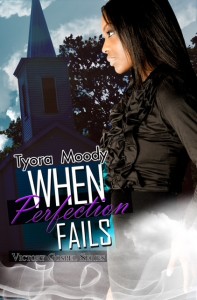 Book Blurb
Reverend Jonathan Freeman and his wife Lenora are quickly becoming Charlotte's "it" couple. All eyes are on them as Jonathan is named pastor of a church following the death of his father, and Lenora has become a sought-after wedding planner. The Freemans are media darlings and a model couple;the picture of perfection. Or are they?
Behind the scenes, Jonathan struggles with his role as pastor of a mega-church, while Lenora grows increasingly and uncharacteristically distant. A number of odd and tragic incidents push her further away from the love of her life, and the façade of perfection begins to crack.
A carefully guarded secret threatens Lenora's security, as well as that of her family. Has an imperfect past finally caught up with her? Will an issue she thought long dead rise like Lazarus from the grave and destroy all she has worked to preserve, or will Lenora fight to protect the man she loves and the beautiful life God has blessed her to have?
Click on the book cover to listen to the podcast!
Connect with Tyora Moody on Social Media:
www.tyoramoody.com
https://www.facebook.com/tyora.moody?fref=ts&ref=br_tf
https://twitter.com/tyoramoody
http://www.pinterest.com/tyoramoody/
https://www.youtube.com/user/cookieaisle
http://www.goodreads.com/author/show/4978725.Tyora_Moody
Great Soul-Searching Suspense and Cozy Mysteries!
http://www.pinterest.com/tyoramoody