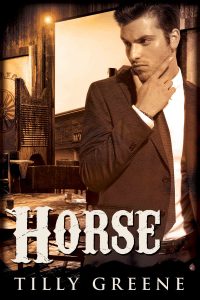 Horse  – An historical western erotic romance
While living in Ireland farming peat, Jack Murphy knew there was no way he'd follow the time honored tradition for second sons to dedicate themselves to the church. He liked women too much, so with the blessing of his parents, he left for a new life in America. New York City held his attention for a couple years but he grew tired of the violent side of life he took on and boarded a train south and west to Cowler Texas. His first night in town he finds himself sitting at a poker table with the saloon in the pot. No way did he think he'd win, but if he did, well, it was worth a chance.
After gaining the name Horse, two gun fights and a sexy woman wearing spectacles collide, he finds the life he always wanted.
Excerpt
In New York he'd heard about how wild gunfights were in the west, but never expected to be in the middle of one.
The fight was out of control!
A movement to his side had him turning quickly to defend himself. He saw no threat. At least, none he determined was coming his way. He watched the pretty brunette pull a gun from where it was strapped to her shapely upper leg. He also spotted a knife stuffed into her boot, but she didn't go for the sticker. Jack was turned on by the little armed woman and decided, if he lived, he'd definitely do something about it later.
Despite her size and sex, she was no pushover. He was excited by what he saw and wanted her at his side. However, he couldn't ignore the bred from the nappy wearing age dictate that he should protect her at all costs.
Reaching over her head, he grabbed the gun too big for her to hold steady and assessed the situation. He'd never touched a gun until he came to America and he found himself a careful practitioner. There was nothing but respect for the weapon of death.
After a careful look around the saloon, he figured out the shooting was an effort to keep Michaels from running away.
There was no need for the man to flee, Jack surmised. He had no plans to kill him for cheating. All he needed to do was take control of the saloon he'd won fair and square. Jumping up was stupid, but he did and called out for the shooting to stop.
You can read Chapter One by following this link.
Whether traveling or sitting in her office, Tilly Greene researches and writes erotica and erotic romance novels in a variety of genres and sub-genres like shape shifter, paranormal, contemporary and futuristics, and themes such as BDSM, multiculturalism and ménages.  Every day she looks forward to writing about women who are independent and confident, the men who love them, and their twisting passionate path to each other.
Find Tilly online:
Website
Facebook
Facebook Fan Page
Twitter
Goodreads
Pinterest
Stumbleupon
AReCafe
You can find Tilly's books at:
Amazon
Barnes & Noble
iBooks
Smashwords
AllRomance eBooks