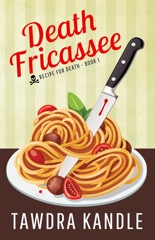 Death Fricassee by Tawdra Kandle
Want a recipe for disaster? Take one thirty-something food columnist, living the high life as the youngest resident of a Florida retirement community in the house she inherited from her grandmother. Sprinkle with early-bird specials and nights of bingo.
Add one college professor-turned-novelist, seasoned heavily with deep, dark secrets sprung from a night of drunken fun that left him changed in ways he doesn't understand.
Toss in a dash of murder that rocks a quiet community.
And heat until neither one can deny their growing attraction to each other.
Best served hot with a side of wicked humor and a glass of Pinot Grigio.
Bon Appetit!
Excerpt:
"Where did you go?" I pulled out a chair and sat down, twisting the top of one of the beers. "When you practically sprinted off my porch a few hours ago, I mean."
Lucas regarded me solemnly before he joined me at the table. He opened his beer and took a long pull. "I can't tell you, Jackie. I'm sorry."
I kept my eyes on his, steady and serious. "Okay. But can I ask you one more question?"
"You can ask. I can't promise I'll answer."
"Are you a superhero?"
Lucas choked on his beer, coughing and sputtering as he set it down. "What? Am I a what?"
I smiled. "A superhero. I mean, look at the evidence." I held up my fingers. "You're secretive about who you are and what you do. You take off suddenly, and you can't tell me why. You have this chick making some kind of mysterious deliveries to you. That all adds up to superhero."
"No, Jackie, I promise you. I'm not a superhero. I wish that were He shook his head. "You've been reading too many comics. "Then what?"
"I don't understand why you can't at least give me a clue. I've been trying to give you space. Let you tell me in your own time. But it's getting old, Lucas."
He rubbed the back of his neck. "I know. You've been patient. You don't know how many times I've wanted to just tell you. We sit in the dark together night after night, and each time, it's harder for me to stop myself from spilling my guts. Mostly because I know if I did, you might end up hating me. And I'm selfish enough that I can't take that chance. Because as difficult as it is to keep my secret." He raised his eyes to meet mine. "It's even harder to harder to keep myself from touching you."
I took another swig of my beer and set it down. Taking a deep breath, I stood up and stepped closer to the chair where Lucas watched me with hooded eyes. I slid my arms around his neck and brought my lips close to his ear.
"I could never hate you, Lucas. I want you to touch me. I want you."
About the Author: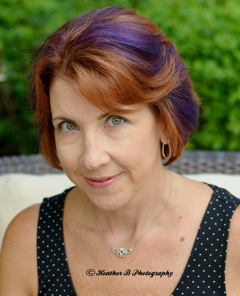 Tawdra Kandle writes romance, in just about all its forms. She loves unlikely pairings, strong women, sexy guys, hot love scenes and just enough conflict to make it interesting. Her books run from YA paranormal romance (THE KING SERIES), through NA paranormal and contemporary romance (THE SERENDIPITY DUET, PERFECT DISH DUO, THE ONE TRILOGY) to adult contemporary and paramystery romance (CRYSTAL COVE BOOKS and RECIPE FOR DEATH SERIES). She lives in central Florida with a husband, kids, sweet pup and too many cats. And yeah, she rocks purple hair.
Visit Tawdra online at:
Website
Facebook
Twitter
Tumblr
Pinterest
You can purchase Death Fricassee @ Amazon for only $.99!
Tawdra is also the author of:
THE LAST ONE (NA Contemporary Romance)
THE KING SERIES (YA ParaRomance)
BEST SERVED COLD (new adult romance)
UNDENIABLE (new adult paranormal romance)