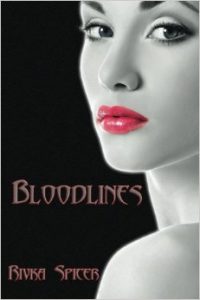 Bloodlines by Rivka Spicer
In the years after a virus wiped out most of the population, humanity was teetering on the brink of extinction and the new governing body enforced a law for survival; at the age of 16, all girls must travel to The Enclave, where they will spend two years producing children to ensure the propagation of the species.
9 generations later, Piper doesn't want to go. Educated by parents that taught her to read and write, she sees The Enclave as a violation of her rights. Unable to escape her captors, she is plunged into a race against time to uncover the dark secrets and betrayals perpetuated by The Enclave. If she fails, she loses her right to choose the man she loves.
This modern dystopian re-imagining of A Handmaid's Tale explores themes of love, feminism, education and the right to choose.
Excerpt:
First page:
They came for me on a Tuesday. I was up in the fields above the croft when I saw them riding up the hill, the red and green uniform of the Enclave bright, even through the fog. I'd always thought it was a funny colour combination to choose. Despite being 9
th
 gen PV, we still celebrated Christmas in our house and it reminded me of the delicate and ancient baubles and decorations we strung up around the croft. The virus had wiped out most of the world's population, but that didn't mean our ancestors had forgotten the simple pleasures in life. It seemed religion didn't die as easily as humans.
I wasn't laughing that morning though. There was only one reason the Enclave could have sent four men to my home and that was me. I was too far from the house to run in and hide in the bolt hole my parents had prepared for this day, but too close to get away without being seen. Praying my shapeless clothes and hood made me look like a boy, I casually turned and began walking up the valley. If I could just reach the forest on the spine, I might be able to get to one of the Havens before they found me. It was my only hope. Fear had my heart racing and there was a metallic taste in my mouth.
I'd crossed two fields and was only two hundred metres from the tree line when I heard shouting, behind and below me. I didn't stop to look, breaking into a run for the trees and for freedom. Barking and yapping echoed loudly up the hill and I could feel my legs turning to water with fear. I didn't know they'd bring dogs. I didn't stand a chance. I forced a last burst of energy into my failing limbs, racing towards the safety of the forest, but it was uphill and my lungs were heaving and the hoof beats were coming closer and closer.
The dogs caught me first, surrounding me with their teeth bared. I staggered to a halt and they circled around, prowling with their bodies low to the earth, watching me with almost lupine eyes. The horses were on us moments later and their riders were angry. I was the worst kind of scum – a girl who didn't want to sacrifice her freedom for two short years to save her species. They bundled a black sack of coarse cloth over my head and yanked me roughly up onto a horse.
I didn't even get to say goodbye.
Reader, writer, textile artist and jelly sweet addict, Rivka Spicer lives in the far frozen north of Scotland, where the weather is always sideways but the land is always beautiful. Having written her first (truly terrible) book at the age of 12, her love of the written word has never faded and she is now the author of several published works, including the bestselling contemporary romance Summer Loving.
Visit Rivka online at:
Twitter
Facebook
Blog
Pinterest
Amazon
Reader emails to RivkaSpicer@hotmail.co.uk