A formula for flirting can only be quality controlled with detailed research.  So when Felicity Stone is invited to be a pretend girlfriend with a hot guy, what starts out as an experiment turns into red-hot chemistry in Shannyn Schroeder's new book Her Winning Formula.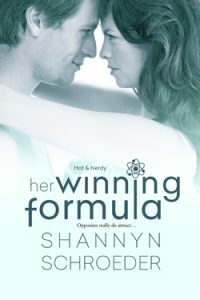 Book Blurb:
Spring break was supposed to be a last blast of fun for three friends before the reality of adulthood set in. But for the trio's science whiz, it's an education in instant attraction…
Chemistry major Felicity Stone can tell you everything about the way chemicals interact, but when it comes to social interaction, she needs schooling. Abandoned by her friends, Felicity is faced with spending spring break alone—unless she accepts a gorgeous stranger's invitation to pose as his girlfriend at a family wedding. Not one to turn down a research opportunity, Felicity never expected it to produce such breathtaking results…
Teacher and baseball coach Lucas Tanner is fascinated by Felicity's potent mix of spirit and scientist, not to mention her delicious curves. When Felicity asks him to return the favor by teaching her how to pick up guys, he can't refuse—but he's not at all happy with the idea of her using a formula for flirting on anyone but him. Can he convince her that together they have the perfect chemistry?
Her Winning Formula – Shannyn Schroeder (excerpt)
Felicity was beginning to think this trip was cursed.
Lucas stood there staring at her, then he sighed. "Take my car. I can have someone from my family come get me."
"I can't do that."
"Sure you can. I'm probably going to be at the hotel most of the time." He leaned over the counter and flashed a sexy smile at the clerk. "You can change that reservation, right? I'd like to give my friend Felicity here my car."
The girl's face brightened. "Of course, we can do that."
Felicity pulled out her credit card. "Thank you."
Lucas had stepped away from the counter and pulled out his phone. She watched him and knew she should do or say something. Thank you didn't quite cut it. She thought about Layla and Charlie and even her mother and what they would do in this situation. "Don't call your family. I'll take you to your hotel."
"You sure?"
"It doesn't make sense for someone to drive thirty miles to get here and then have to turn back. It's the least I can do." She signed the paperwork, and they walked outside to get the car. Felicity slid her sunglasses on her face as Lucas stowed their bags in the trunk. He climbed in beside her, looking no more comfortable than he had on the plane. "I'm a safe driver."
He jiggled the handle to adjust the seat and shoved it back to allow more legroom, and then he relaxed. He typed his hotel information into the onboard GPS, and Felicity began driving. Lucas made call after call while they drove. From what she could hear, he'd been roped into taking care of a bunch of wedding details, but nothing seemed to bother him.
When he finally clicked his phone off and tucked it back in his pocket, she knew she should say something.
"Sorry for all the calls. My family was a little panicked that I wasn't going to make it on time."
"Okay." In the silence, she thought about what she'd wanted to get out of this vacation, besides time with her two closest and oldest friends. She wanted to have fun. She'd been counting on Layla and Charlie to help with that. It was bad enough that Charlie refused the trip, but now Layla was late. As they neared Lucas's hotel, she blurted, "Okay, I'll go to the wedding with you."
"You make it sound like it might be torture."
She laughed. "After you see me in a big crowd, you might think that way too."
"It'll be fun."
Ha! Volunteering to put herself into a group of people she didn't know didn't sound fun at all, but being with Lucas did. He made her laugh, which was something she didn't get from most guys.
***
Lucas relaxed his shoulders. He had a date for the wedding. This would be perfect. Felicity would be able to keep Becky from clawing at him, and he might actually have a shot of enjoying this week.
Felicity pulled up in front of his hotel. "Give me a call and let me know what time I should be here tomorrow."
"Tomorrow? No, I need you now."
Her eyes widened, and he realized how his words sounded. "I mean, there's rehearsal in a couple of hours and then dinner after. My family will expect my date to be there. Plus, you'll need a crash course on me and my family if we're going to pull this off."
Felicity's brows furrowed, and a cute wrinkle waved along her forehead. "Pull this off? I thought you just needed a date."
He released a slow breath. "I need a date to keep my ex away. If she knows we just met on the plane, it'll be like waving a red cape at a bull. She needs to think we're in a relationship."
Felicity swallowed hard.
"We don't need to make them believe we're getting married or anything, just dating, but that means we need to know about each other."
"But…but I have to check in at my hotel."
"Call and tell them you'll be late. You can go there after dinner tonight." Lucas waited patiently, like he did in the classroom when a student needed time to develop an answer.
Felicity faced forward, staring out the windshield, looking like she was carrying on a conversation in her head. She blew out a breath and shook her head. "Fine. Get the bags from the trunk and I'll park. I need to change before dinner."
"Thanks. I could kiss you."
She turned, and one eyebrow arched up above her sunglasses. "Is that part of our deal?"
He smiled. "Only if you want it to be."
Buy links:
Kindle— http://www.amazon.com/Her-Winning-Formula-Hot-Nerdy-ebook/dp/B00KM9O6TK/ref=sr_1_8_title_0_main?s=books&ie=UTF8&qid=1402932308&sr=1-8&keywords=shannyn+Schroeder
Nook— http://www.barnesandnoble.com/w/her-winning-formula-shannyn-schroeder/1119633677?ean=9781601833358&itm=1&usri=shannyn+schroeder
iBooks— https://itunes.apple.com/us/book/her-winning-formula/id883289546?mt=11
Kobo — http://store.kobobooks.com/en-US/ebook/her-winning-formula
Bio:
Shannyn Schroeder is the author of the O'Leary series, contemporary romances centered around a large Irish-American family in Chicago and the new Hot & Nerdy series about 3 nerdy friends and their last spring break. When she's not wrangling her three kids or writing, she watches a ton of TV and loves to bake cookies.
Author contact:
Web site — http://www.shannynschroeder.com
Goodreads — https://www.goodreads.com/author/show/6575201.Shannyn_Schroeder
Twitter — https://twitter.com/SSchroeder_
Facebook — https://www.facebook.com/shannyn.schroeder