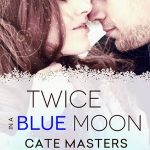 A world of ice kindles a spark
Twice in a Blue Moon by Cate Masters
In an overcrowded world, sometimes two people must venture to remote places to slow down, take a deep breath and open their eyes to the world around them. Maybe this is why I love Twice In A Blue Moon so much, and fell in love with Melanie and Buck. Both are running from a painful past, but until their paths collide in a place of snow and ice, they can't take stock of what's missing in their lives—or recognize the need to fill the emptiness in themselves.
Melanie, having lost the guy who was her once-in-a-blue-moon love, doesn't believe her future holds much warmth. Until she meets Buck.
This scene shows why I fell in love with Buck. Disillusioned after a bad breakup and a dead-end job, he fled to Sweden and became a dog sled tour guide. He pours all his love into care of his Huskies, and can't admit to himself that he needs more. Until he meets Melanie. He recognizes her pain, and his nurturing side takes over.
I hope you enjoy this scene from Twice In A Blue Moon:
"You're lucky."
Strange, not many would agree with Melanie's assessment. "So are you. You're a globe trotter."
Her shrug seemed half-hearted. "I used to love the constant travel. Now I'm tired of it. I don't even get to enjoy most of the places we go. Being able to sit back and take in the view for a change seems a luxury. No rushing from one place to the next, and for what?" She shook her head, like she couldn't answer her own question.
"You've accomplished a lot. You should be proud."
"I guess." She spoke low, almost in a whisper.
"It's impressive. And so is your down-to-earth way with people."
"I'm not good with people." She sent Buck a shy glance. "Not like you."
"Me?" Anyone surpassed him in the social arena. His dogs. Even the reindeer.
"Yes, you," she insisted. "How did you know to bring Britt-Marie the fabric and thread?"
"Easy. She has little access to those things. The Sami people rarely have money, rarely want it except when their kids beg for clothes or whatever trendy things their school friends have. Like most Sami people, Britt-Marie makes everything for her home and family. They use every part of a reindeer, even the sinew for thread. It's thick and hard to sew with. The store-bought kind is a treasure to her." Now who was yapping? He couldn't remember the last time he'd gone on and on about nothing.
"It was still nice of you to think of her."
Nice of Melanie to notice, too. "I owe them a lot. They're always good to me."
"You're lucky to have people who care about you so much."
Is that why she'd come out here? Out of loneliness? "You have Gina and Victor and Hayden. Your crew loves you." Especially Hayden. His stomach clenched.
She wrinkled her nose and traced the dog's snout. "It's different. We're coworkers. They depend on the show for their salaries."
Didn't she have family? Other people close to her who loved her? Asking would overstep professional boundaries, so he didn't. "You certainly inspired Isa today."
She turned somber. "I hope she changes her mind before graduation. Or if she does travel, that she doesn't stay away too long."
There was that sadness again. Helplessness. Like she'd lost something and could never get it back. The dead boyfriend Kenny mentioned? "Too long for what?"
"Sorry, I'm babbling." She gently lifted the dog's head and moved him to the straw, then suddenly rose.
More like avoiding the question. "Are you all right?"
She smiled at him, but her voice cracked when she said, "I'm fine."
He stumbled to his feet. Wanted to hold her. Maybe it would help mend whatever broken pieces of herself remained, heal them so they wouldn't cut into her. If what Ken said was true, the pain still haunted her.
She backed away. "I have to go. Sorry I bothered you."
"No bother at all." And you don't have to go. He waited, keeping very still so as not to startle her.
She hesitated, studying him, then dropped her head. "Good night." She hurried to the door faster than necessary.
Again, he'd upset her? He rushed after her. At a minimum, he'd make sure she got safely to the house. When he cracked open the door and peered out, she'd stopped halfway there and was staring up. Above, faint swirls of blue wound through the sky.
Pretty, yes, but not worth freezing for. He was about to call out to her when she turned toward him. His heart twisted, an uncomfortable flip-flop. Cold on the bottom of his feet told him he'd stepped outside. Heading for her.
From the house, a shaft of golden light sliced across the yard, capturing her in its glow. "Melanie?"
Hayden. If Buck disliked him before, he hated the guy that moment. Always interfering. Watching.
If she'd intended to come back to him, the audience of one dissuaded her. "I'm coming." She waved to him and began walking, head still upturned. Before going inside, she stopped to swipe her cheeks.
Was she crying? What the hell was going on with her? God, I hope I didn't upset her with a stupid comment again. He ran over the conversation in his head but couldn't pinpoint one. Given her sadness during the conversation with Isa, it had to be something else. Something that ran much deeper.
Whatever troubled her, Video Boy had no clue—and so couldn't heal her. Buck wanted to hold her a long time, long after she'd stopped crying. He stood for a few minutes to shake off the strange ache, but not even the aurora could lift him up out of his heavy thoughts.
Can true love strike twice?
After the death of her first love, Melanie Michaels buries her grief in the risky demands of a reality show, where her extreme stunts leave her teetering on the edge of danger. That's exactly where she wants to be—until she arranges for her crew to traverse the Swedish Lapland in the dead of winter. It's the one place she shouldn't go, on the one day she should avoid—her would-be wedding anniversary.
Instead of romantic nights spent in the Ice Hotel or under the Northern Lights, Melanie is stuck with Joe "Buck" Wright, a snarky loner tour guide who loves his sled dogs and nothing and no one else. But Buck is also trying to numb a painful past. Can two people skilled at pushing others away find warmth at the edge of the Arctic?
Amazon | Barnes & Noble | Kensington
Cate Masters is a hopeless romantic who loves a bit of adventure in her stories, whether contemporary, historical or paranormal/fantasy. Connect with her online at her blog, Facebook and Twitter.