Miya's Assault is the beginning of a space opera geared for action, adventure and thoughtful storytelling.  Author Fred D. Shutts starts this first novel in his Black Watch Chronicles series with high adventure, life-or-death action and characters you'll think about long after the last page.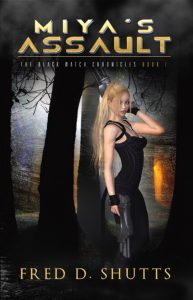 It's the distant future and Sorrow Earth looks for heroes among those with superhuman abilities, super science, courage and honor. The crew of the Typhoon are close reminding me of great teams like those on Firefly, Battlestar Galactica or Farscape.  You become interested, not just in their missions, but in their lives.  They find a pod with the last remaining Neko warrior still alive.  Miya is part cat and part human, and all fighting-machine. She is taken in by the team and becomes part of the family.
This book is a non-stop action/adventure with strong characters and great fight scenes.  Shutts' world-building is a canvas of science fiction awesomeness!