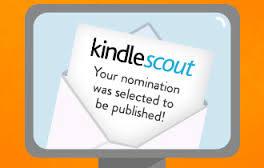 From Amazon's Press Release:::
Amazon to Publish Inaugural Books Selected by Kindle Scout
Customers can now pre-order 10 reader-discovered titles that will be released on March 3
21 books have been selected to date, with more submitted and selected daily
Amazon today announced that customers can pre-order the first 10 titles discovered through Kindle Scout, Amazon's new reader-powered publishing platform. The books, which will be released on March 3, are the first to be published under the digital publishing banner Kindle Press. To date, there have been 21 titles selected for publication by Kindle Press, with more books submitted and selected daily. Today, Kindle Scout also began accepting Contemporary Fiction, Historical Fiction, and Action & Adventure submissions in addition to Romance, Mystery/Thriller and Science Fiction. Learn more about the inaugural Kindle Press books and submit your manuscript to Kindle Scout at kindlescout.amazon.com/selected.
"Since we opened our doors we've been busy weighing the feedback of over 29,000 enthusiastic Scouts who have nominated the books they want to read next," said Dina Hilal, general manager for Kindle Scout. "These first 10 titles signal a new option for authors, who can choose to have their books discovered and supported by Amazon customers even before they are published."
The first 10 Kindle Press books to be published on March 3, 2015 are:
G1 by Rigel Carson – Science Fiction
A Highland Knight's Desire by Amy Jarecki – Romance
Eddie & Sunny by Stacey Cochran – Mystery/Romance
L.A. Sniper by Steve Gannon – Thriller
Pit Bulls vs. Aliens by Neal Wooten – Science Fiction
Royal Date by Sariah Wilson – Romance
Running from the Past by Alan Orloff – Thriller
The Game Master by William Bernhardt – Thriller
The Omega Connection by Allan Leverone – Thriller
Unpaved Surfaces by Joseph Souza – Mystery
"Having Eddie & Sunny chosen for publication by Kindle Press has been nothing short of a dream come true," said author Stacey Cochran. "The reader enthusiasm galvanized during the Kindle Scout campaign was exciting beyond anything else I've experienced as a writer, but the thing that's been most surprising in all of this is the community experience and friendships I've made with the other writers I've come to know through Kindle Scout after connecting on social media."
Kindle Scout by the numbers:
9 – The average number of excerpts a Scout considers before nominating a title to be published
3 – The number of minutes it took the fastest author to submit a manuscript to Kindle Scout
31 – The average number of days in which a Kindle Scout author receives a publishing decision after submitting a book
$25,000 – If a Kindle Press author does not earn at least this amount during his 5-year contract, he can request his rights back
10 – The highest number of free Kindle books an individual Scout has earned for nominating books to date
About Kindle Scout
Kindle Scout is reader-powered publishing for new, never-before-published books. It's a place where readers help decide if a book gets published. Selected books are published by Kindle Press and receive 5-year renewable terms, a $1,500 advance, 50% eBook royalty rate, easy rights reversions, and featured Amazon marketing. For more information about Kindle Scout please visit kindlescout.com/about. To see a video on how Kindle Scout works, visit kindlescout.amazon.com/video.