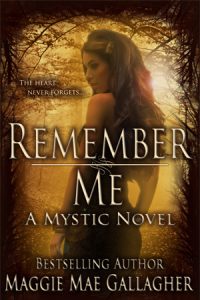 REMEMBER ME
The Heart Never Forgets…
When world renowned psychic, Madelyn Rose, accepts a missing children's case on the Navajo Reservation, she believes it is a case she is more than capable of solving. What she never expects is for Detective Bronx Daniels to dredge up images of their shared past life and challenge the foundation of her future. In the wide open spaces of the Arizona desert, Madelyn and Bronx are forced to rely upon each other for survival as they race to save the abducted boys from the will of a madman. But with her life on the line, will Madelyn risk it all for a love that crosses time?
Excerpt of REMEMBER ME
Well, hell.
The police building reminded her more of the OK Corral than a government office building. Any minute she expected Doc Holiday to waltz around the corner of the squat brown brick and tip his hat in her direction. Instead, she had Mister Crabby Ass, Detective Daniels, impatiently awaiting her arrival, his large frame illuminated in the doorway. If Maddie had not experienced the travel day from hell, she might actually be able to smile at his flippant assertiveness.
She loved the work she did, loved helping people, saving lives, and putting the bad guys behind bars. But it meant she worked closely with law enforcement and personalities that made her want to beat her head against the wall half the time. As much as she was trying to reserve judgment, Detective Daniels wasn't making it easy on her.
He had threatened at one point today to send a search party for her with all her flight delays. Maddie snorted at the thought, she had never been lost a day in her life. Switching off the car engine, she grabbed her purse and climbed out into the desolate desert, flickers of lightning raced across the inky sky. The small town of Creekstone had already closed for the night. A lone street lamp near the one church cast its pitiful light on what served as main street for the town boasting a population a smidge over three hundred. The police station seemed to be the only business still operating at this time of night.
"About time you made it," he said and turned before she caught a glimpse of his face. Man had been on her ass all day long. Like she called down the heavens and asked for a series of super-cell thunderstorms spanning seven states, just to ruin his day. Detective Daniels she presumed.
Arrogant jerk didn't even give her a chance to respond. On the bright side, at least he left the station door open for her and didn't slam it in her face.
Her luggage could stay put until he pointed her in the direction of a motel that hopefully wasn't one of those pay by the hour deals she had noticed on the drive in. Although from the way it looked, she would be lucky to find a decent coffee shop within fifty miles. Why couldn't she have had another case in New Orleans or somewhere that the population demanded amenities like coffee shops on almost every corner? How people lived in the middle of nowhere, away from any type of civilization was beyond her. Didn't people watch scary movies? The middle of nowhere was precisely where the deranged psycho killer with a chainsaw showed up. She glanced around the adobe brick Navajo Nation Police Sub-Station as if it were the Bates Motel, and rubbed warmth back into her arms. Maddie's brownstone apartment on the Upper East Side in Manhattan was twice its size.
What a day. And from the looks of it, her day was nowhere near over. She could really use more coffee and not the gut-bombing swill she normally found at every police station she worked in.
At one point in the police station's existence the tiny building might have been a house. Cactus dotted the side yards that were now slushy, slick pools of mud. The only difference between this squat building and the other homes she'd passed was the sign posted in front of two parking spaces designating it as the police station.
Maddie ignored her sweaty palms and apprehension swirling in her body. The dinner she'd grabbed in Flagstaff threatened to regurgitate with each step forward. For the second time in her life, Maddie disregarded her instincts. When it came to kids, there was no out, not in her book.
She marched inside after him, her gaze slid over his ass encased in well-worn jeans. Well, she had to give the guy credit. He had a triple-prime, grade-A behind.
The icy breeze made her teeth chatter. Maddie pulled her coat tighter and closed the door against the chill. The fluorescent lights exposed the faded light blue paint on the walls that were tinged with grime around the edges. Some of the desert had taken up residence inside, nature's way of trying to take back what rightfully belonged to her.
Two small pale wooden desks each competed for space with computer stations that looked like an IT person's version of a wet dream. A multi-line phone, extra light, as if the glaring fluorescent bulbs weren't enough to brighten the dingy place, and black computer chairs. A pewter-colored metal door stood staunchly in the left-hand corner; she assumed it led to the holding cells, and possibly a restroom, but little else.
Maddie noticed a small refrigerator in the opposite corner with a coffeemaker situated on top. There was a half-full pot of, from the smell of it, burnt coffee. A trace of heady sage mingled with cedar lingered in the room. Why would the detective smell like sage and cedar? Was he a practitioner? Was that why he called her? The scents were something one would typically find in a metaphysical shop, like the one she conducted psychic readings out of when she was home in New York. Maddie practically rubbed her hands together. If he was, it would make her job so much easier.
Detective Daniels reached his desk before he turned his attention and face back to her.
Wowzers.
She bit her lip to keep her mouth from popping open. This was no pretty boy, like the ones dominating Hollywood these days, but a rugged man's man. Taking in the lean, rangy build encased in a blue plaid dress shirt the top button undone, as he swiveled to meet her gaze head-on, the man wasted no movements. A brown leather belt was slung around his hips, holding his firearm and displaying his badge, accentuated his lean hips. Every step he took had apurpose behind it or he did not bother with the movement. The intensity in his gaze reminded Maddie of birds of prey. Even the straight raven hair grazing his shoulders moved in conjunction with the rest of him as if allowing a strand out of place would somehow cause too much disorder.
Maddie checked the long sturdy fingers on his left hand. No wedding band. Dark suntanned skin, rugged features from a lifetime spent in the sun with coldly assessing brown eyes. He wasn't pure Navajo Indian, somewhere in his ancestry there was some Anglo.
The firm line of his mouth, surrounded by shadowed growth along his square jaw-line, and his stern expression told her in all of two seconds that he didn't want her there. Absorbing the distrust stamped across his face, the man did not practice anything that was remotely off the reservation, so to speak.
He studied her with a stony glint in his eyes and firm set to his jaw that she steadfastly believed police forces around the world taught their officers. And this one sized her up, traced the outline of her loose auburn curls draped over her shoulders. His eyes missed nothing, not the dangly silver hoops decorating her ears to her brown high-heeled Steve Madden boots. Something told her he was displeased by her appearance.
"What? Were you expecting a crystal ball and broomstick?"
Available at:
Amazon http://goo.gl/tp6QMO
B&N http://goo.gl/g03cxG
Kobo http://goo.gl/5nKnBc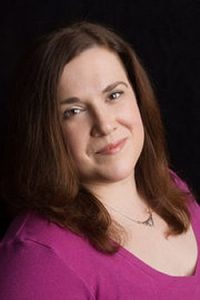 About the Author:
Bestselling Author Maggie Mae Gallagher doesn't remember a time when she wasn't writing. When she was a kid she acted out her favorite scenes, only better, with her brother and cousin. As a teenager, she wrote reams of poetry, but realized her true love lay with creating characters and stories. A former music and history major, Maggie is a total geek at her core. When she is not writing, she adores attending the latest comic con or spending time with her family. She lives in St. Louis, Missouri, with her two furry felines.
Find Maggie at:
Website: http://www.maggiemaegallagher.com
Facebook: https://www.facebook.com/pages/Maggie-Mae-Gallagher/107335792624944
Twitter: https://twitter.com/magmaegallagher
Amazon author page: https://www.amazon.com/author/maggiegallagher
Goodreads