The Last Hero by Hildie McQueen 
Mega star Jensen Ford returns to his home state of Tennessee, to film a blockbuster film. Although the pretty local bakery owner catches his eye, she could never survive his Hollywood lifestyle. His mind knows its best to keep her at arms length, but how to convince his heart?
Cassie Tucker doesn't like arrogant Jensen Ford, definitely doesn't want to get to know him either. With a cupcake shop to run, an ex harassing her and her younger brother moving in, she doesn't have time for the movie star's antics.
Is it fate or happenstance that they end up alone together time after time?
Ooey Gooey Cupcake
Excerpt from The Last Hero
In the distance a bell rang and Cassie considered how appropriate to hear chimes at the precise moment her legs wrapped around his waist. He lifted back, his eyes half closed. "I think your oven is ringing."
"What?" It took a few seconds before the words made sense. She wasn't sure, but he may have repeated it twice. "Oven?"
By the time she realized she was sitting on the counter and a moment ago had her legs wrapped around a man in plain view from any passerby, Jensen had donned oven mitts and was pulling overly browned cakes from the oven. He placed them both on the counter with smooth moves of someone used to being in the kitchen. When he pulled the second pan, he set it next to the first. "There, they look fine don't you think?"
Cassie stared at him with rounded eyes. "I don't like you. I'm not sure what just happened."
The one shoulder shrug didn't tell her anything, so Cassie grabbed his arm and turned him to face her. "I mean it. I'm not sure what that was all about."
Jensen lifted a brow, his darkened eyes traveled down her body. "Women like bragging rights. You're probably no different."
"What the hell is that supposed to mean?" Cassie slammed her hand down on the counter, which hit the edge of the pan sending hot cupcakes askew, a few landing on the floor. She ignored them and glared at Jensen. "I'm not a groupie."
"You just said you don't know what happened. You don't like me." Jensen's voice was neutral, a blank expression on his face. He looked down at her, and there was a hard, icy edge to his voice. "It happens to me all the time. It's enjoyable sometimes."
Her hands curled into fists. She had to hold back the urge to slap the look of disdain from his face. "You came here, behind the counter, so don't put it all on me."
"I'm not. Just helping you figure out why you threw yourself at someone you claim not to like." He walked around her and straight out the front door.
"What the hell just happened?" Cassie glared at the doorway. Perhaps she shouldn't have said she didn't like him after humping him like a bitch in heat. "Ugh!" She picked up a cupcake and took a big bite only to spit it out when it burned her tongue. Outside a motorcycle rumbled to life and she saw Jensen ride by and head out of town.
The bell over the door jingled and woman with arms full of shopping bags walked in. "It's hot in here."
"You have no idea." Cassie turned to see the oven door was still open.
About the Author: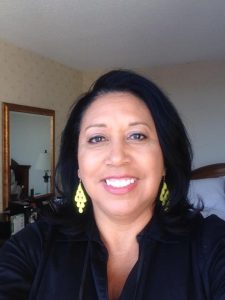 Amazon bestselling author Hildie McQueen loves action, love and unusual settings. Author of western historical, Highland historical, paranormal and contemporary romance, she writes something every reader can enjoy.
Most days she can be found in her pajamas hiding from deliverymen while drinking tea from her David Gandy coffee mug. In the afternoons she browses the Internet for semi-nude men to post on Facebook. Hildie's favorite past-times are romance conventions, traveling, shopping and reading. She resides in beautiful small town Georgia with her super-hero husband Kurt and two unruly boy Chihuahuas and a spoiled rotten girl Chi named Lola. 

Visit her website at www.hildiemcqueen.com
Facebook: https://www.facebook.com/HildieMcQueen
Twitter: https://twitter.com/HildieMcQueen
Google+: https://plus.google.com/u/0/+HildieMcQueen