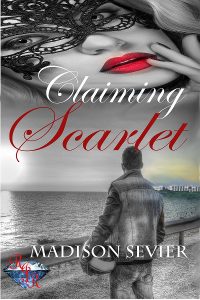 Claiming Scarlet, River Jewel Resort 4 by Madison Sevier
Twenty years ago, Kevin Sunman's life changed forever when the woman he believed was his soulmate walked out of his life and disappeared. He spent copious amounts of time and money on detectives who came up short, leaving him lonely and frustrated. Determined to forget her, he saddled up his custom motorcycle and hit the road searching for closure.
After many days and hundreds of miles on the road, Kevin checks himself into the River Jewel Resort for a much needed break. Coming face-to-face with his past and the woman who has haunted his every waking moment for two decades wasn't what he expected. And what he learned about his mystery woman is far more than he ever bargained for.
Scarlet Noir, owner of the River Jewel Resort, has lived a life full of mystery. Bringing soulmates together and helping them find their true happiness has become the mask she's worn to hide her own loneliness and secrets. When the man she walked away from twenty years ago shows up at her resort, she's forced to remove the disguise and confront all that she left behind.
Will their time apart prove to be too much to overcome? Or can the River Jewel Resort heal their heartache, allowing them a second chance to claim their true love?
Excerpt:
She'd found him! It had worked and nothing bad happened. Years of listening to her mother's warnings about using her abilities for her own personal gain had left her feeling paranoid and lonely. For the past five years, she'd been able to help unite soulmates, but as her twentieth birthday fast approached, she was without one of her own.
"You can never, ever, under any circumstances use your sight to find your true love."
"But why not, Mama? I've been given a gift. I should be able to find happiness, the same happiness I help everyone else find."
"The backlash from using your gift for personal gain could be dire. The universe is fickle and you never know how she's going to punish you. Please, please promise me that you'll never do it. You'll find true love someday, when it's time. I promise."
Her mother had held her on many occasions while she'd sobbed. Being invited to wedding after wedding, baby shower after baby shower had become bittersweet. All she wanted was someone of her own to love. For so long, her gift felt more like a curse than a blessing! What good was it if she had to be unhappy while everyone else could be held at night, kissed in the mornings and made love to? It was so unfair!
She'd reached the breaking point when her best friend moved away with her high school sweetheart turned fiancé. She decided then and there that she didn't care about the consequences. No matter what, she'd find her soulmate. And it wasn't long before she did.
After using her powers to cast a spell to locate him, she'd convinced her parents they should head to a beachside community in South Carolina for Labor Day weekend. He was there, just as she'd seen with her mind's eye. The young man with dark brown hair and brilliant green eyes, the one she was meant to spend her life with. She knew with every ounce of her being he was everything she'd ever dreamed of and more! Their meeting was magical, movie-like and love at first sight. The moment their eyes had met, she knew her visions were true and he was the one for her. Their destiny was written in the stars they laid beneath on the white sand beach.
About The Author: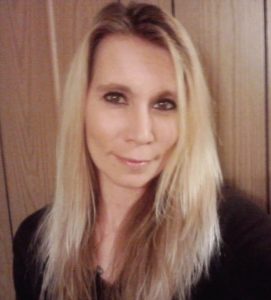 Romance author, Madison Sevier, officially began her writing career in 2011 by going after her lifelong dream and has been having the time of her life ever since.
Her days are spent homeschooling her daughter and doing the bookkeeping for her family's business. At night, she gets to become someone else, creating characters who work their way into the hearts and minds of romance readers everywhere.
Being a coffee-addicted Gemini, Madison is known for doing whatever strikes her fancy at any given moment. Some of her favorite hobbies include; hiking, geocaching, animal rescue, writing, reading, baking, horseback riding and she loves NASCAR.
Living in what everyone calls 'Kentuckiana' with her husband, daughter, two Chihuahuas, one Saint Bernard and two cats, she's found the perfect paradise to allow all of her stories to come to life. Against a backdrop of the Ohio River and surrounding hillsides, she never knows where a new romance will come from. But you can be sure you're going to hear about it.
She loves hearing from her readers and meeting new ones, so feel free to contact her anytime. You can find Madison at:
Website: http://www.madisonsevier.com/
Facebook Profile: https://www.facebook.com/madisonsevier12
Facebook Author Page: https://www.facebook.com/MadisonSevierAuthor?ref=hl
Amazon: http://www.amazon.com/Madison-Sevier/e/B00BDWM3DG/ref=sr_ntt_srch_lnk_1?qid=1428437748&sr=8-1
AmazonUK: http://www.amazon.com/Madison-Sevier/e/B00BDWM3DG/ref=sr_ntt_srch_lnk_1?qid=1428437905&sr=8-1
Createspace: https://www.createspace.com/pub/simplesitesearch.search.do?sitesearch_query=Madison+Sevier&sitesearch_type=STORE
Tumblr: http://madisonsevier.tumblr.com/
Twitter: https://twitter.com/MadisonSevier
Pinterest: https://www.pinterest.com/MadisonSevier/
Booklikes: http://madisonsevier.booklikes.com/
Google+: https://plus.google.com/u/0/113626781991778172262/posts
The Romance Reviews: http://www.theromancereviews.com/mypage.php?location=madisonsevier
Influenster: https://www.influenster.com/dashboard/campaigns