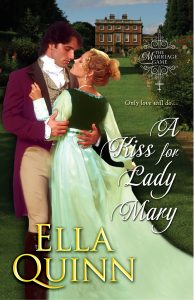 Ella Quinn's bachelors do as they like and take what they want. But when the objects of their desire are bold, beautiful women, the rules of the game always seem to change…
Handsome, charming, and heir to a powerful Viscount, Christopher "Kit" Featherton is everything a woman could want—except interested in marriage. So when he hears that someone on his estate near the Scottish border is claiming to be his wife, Kit sets off to investigate.
Since her parents' death, Lady Mary Tolliver has been hounded by her cousin, a fortune-hunting fool after her inheritance. Refusing to settle for anything less than love, Mary escapes to the isolated estate of rakish bachelor, Kit Featherton. Knowing he prefers Court to the country, she believes she will be safe. But when Kit unexpectedly returns, her pretend marriage begins to feel seductively real…
Excerpt
The next day, Mary sat with her grandmother and aunt in the dower house's elegant, but cozy morning room. Small paintings and miniatures encompassing generations of Tollivers covered the walls and surfaces. The furniture was old, and comfortable, but in the Queen Anne style. Long windows gave a view over the rose garden and the marble fountain in its center. The curtains had recently been changed from the velvet, used during the colder seasons, to a cerulean blue watered silk trimmed with gold braid. Even though they were experiencing one of their few warm days this spring, a log spat and popped in the fireplace.
In fact the only disturbing part of the normally tranquil atmosphere was the conversation.
Doing her best to keep her jaw from dropping in shock, Mary stared at her grandmother. The older woman's thick silver hair was fashionably dressed, and even at more than seventy years of age, her face held few lines. Her gaze seemed as sharp as ever. In all, she looked the picture of health, except for this recent burst of incipient insanity, for that was all it could be.
Mary opened her mouth then closed it again. Several moments passed in silence as she struggled to make sense of what she thought she'd heard. After rejecting retorts such as, Grandmama are you feeling quite well? Or, are you sure you wouldn't like a nice room in Bedlam? Finally, unable to come up with another way to ask her question, she simply voiced the nicest thought in her mind. "Surely, I have not understood you properly. You want me to do what?"
"Well, I think it's a wonderful idea."
Mary shifted her gaze to her aunt. Perhaps madness had always run in the family, and it was kept a secret so as not to ruin them socially. After all, who would deliberately marry into a family where lunacy was rampant?
"He has a face like a fish." Aunt Eunice opened her eyes wide and moved her lips in a fair imitation of fish's.
"Hake." Grandmamma nodded decisively. "It's the way his eyes protrude."
Mary closed her eyes, repressing a shudder. "I agree, but surely there must be less drastic measures I can take."
Grandmama leaned forward and pounded her silver headed cane on the floor. "He may look like a fool, my girl, but he's canny, and, if what Cook told me is true"—Mary should have expected that—"which I have no doubt it is, he almost caught you a few days ago."
"Yes, well." Not the cleverest of replies. Surely, she could think of something more to say. "I got away from him." She ended lamely.
"This time." Grandmama's lips thinned. She rammed the cane into the thick Turkey rug again.
About the Author: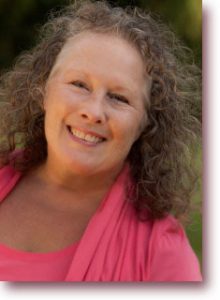 Bestselling author Ella Quinn's studies and other jobs have always been on the serious side. Reading historical romances, especially Regencies, were her escape. Eventually her love of historical novels led her to start writing them. She has just finished her first series, The Marriage Game, and her new series will start in April 2016.
She is married to her wonderful husband of over thirty years. They have a son and granddaughter, one cat and a dog. After living in the South Pacific, Central America, North Africa, England and Europe, she and her husband decided to make their dreams come true and are now living on a sailboat cruising the Caribbean and North America.
Ella is a member of the Romance Writers of American, The Beau Monde and Hearts Through History. She is represented by Elizabeth Pomada of Larsen-Pomada Literary Agency, and published by Kensington.
Website: www.ellaquinnauthor.com
You can find A Kiss for Lady Mary at:
Amazon US ~ Amazon UK ~ B&N ~ Apple