I had a great time chatting with USA Today bestseller and award winning Lucy Monroe tonight. It was fun learning more about her latest novel, Wild Heat, Book One in The Northern Fire Series, the small, Alaskan town of Cailkirn, and of course its memorable residents! I'm reading Wild Heat now, and I'm glued to my Kindle!!
With more than 6 million copies of her books in print, Lucy Monroe has published more than 70 books and had her stories translated for sale in dozens of countries. While she writes several subgenres of romance (paranormal, historical, single title and short contemporary) for multiple publishers, all of her books are sexy, emotional and show that love will conquer all. Lucy wrote more than one million words of romantic fiction before selling her 13th manuscript to Harlequin Presents. Since then, Lucy has hit national bestsellers lists in England and the U.S..  Whether it's a passionate Harlequin Presents, a sexy romantic suspense for Kensington Brava or a steamy historical-paranormal for Berkley Sensation, Lucy's books transport her readers to a special place where the heart rules and love conquers all.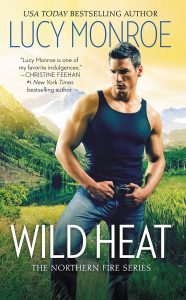 Sometimes old flames are the hottest of all . . .
In the quaint little town of Cailkirn, Alaska, it's impossible to keep a secret, especially one as juicy as the unexpected return of Kitty Grant. Tack MacKinnon remembers her wild red curls and even wilder spirit-and still feels the sting from when she shattered his heart in college. But there's a pain in Kitty's gorgeous eyes that guts him to the core and Tack is determined to do whatever it takes to see the woman he still loves smile again-even if it means taking on her demons as his own.
After fleeing an abusive ex-husband, Kitty decides that the best way to heal her broken heart is to come back home. But she gets a whole new shock when she sees how undeniably sexy Tack has become. More handsome, more muscular, more charming-more everything-he's impossible to resist. Before she knows it, they're reigniting sparks that could set the whole state of Alaska on fire. Yet trust doesn't come easy to Kitty anymore, and as things heat up between her and Tack, she can't help but wonder if one of them is going to get burned . . .
Click on the book cover image to listen to the podcast!
Connect with Lucy Monroe on Social Media:
www.lucymonroe.com
https://www.facebook.com/LucyMonroe.Romance
https://www.pinterest.com/lucymonroebooks/
http://lucymonroeblog.blogspot.com/
Great Contemporary Romance!