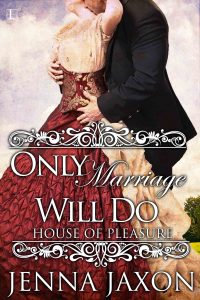 Only Marriage Will Do by Jenna Jaxon
Not every happy-ever-after begins at "I do." 
When the hero of her dreams rescues Lady Juliet Ferrers from the man claiming to be her husband, she is sure she has found her one true love.  But is she free to marry him?  Not to be deterred, Juliet arranges for her hero, Captain Amiable Dawson, to escort her to her family estate, hoping that along the way she can win his love.
Amiable is charmed by the sweet, beautiful woman he rescued, and although he has grave reservations about her marital status, he allows himself to be swept up into Juliet's romantic spell and the promise of a happy-ever-after. 
The spell breaks when legal questions arise and Juliet faces the horror of not knowing if she is married to her knight in shining armor or the cruel viscount who is determined to have her at any price.
EXCERPT:
"I apologize for interrupting your bath, my lady." Amiable lumbered to his feet. He nodded to the tub, keeping his gaze on it rather than her. "I will retire to my room now. I believe it is across the hall, two doors down on the right. If you have further need of me this evening, please send Glynis for me." He bowed and strode toward the door.
"You did not interrupt my bath, Captain Dawson," Juliet whispered as he opened door.
He turned and raked his gaze over her for a long moment. "More's the pity, Lady Juliet." He cursed, clutched the door latch then jerked it open and left.
How odd men acted sometimes. Still, he had followed her to the White Hart Inn. That mattered most of all. She crossed to the tub. Idly, she dipped her hand in and trailed her fingers through the exquisitely warm water. Perfect. The whole evening's encounter had been perfect. Although if Amiable had arrived a mere ten minutes later…
"More's the pity," she whispered. A blast of heat began in her face and spread until even her toes had turned red. She doffed her night rail and climbed into the tub. Best have another reason for her bright hue should Glynis reappear.
* * * *
Amiable strode into his room, shut the door and sagged against it. His only hope of staying upright.
"Why the devil did I say that?" Remembering her comely figure in a sheer nightgown beside the waiting bath, he closed his eyes. His groin stirred. He'd come to be her protector, not her debaucher. Still, images of Juliet, warm and wet and naked in that tub had popped into his head as he'd sat not two feet from her.
Unthinkable. Thank God, he'd left her chamber before temptation became too great.
Yet now, just down the hall, she would be sitting, relaxed in that tub, her shining hair piled haphazardly on her head, tendrils and wisps escaping to form a halo around her face. Her milky white complexion turned rosy by hot water, a deeper rose perhaps at the tips of breasts barely touching the water. Breasts that would feel soft and smooth beneath his fingers when he…
"Christ." He tore at his cravat, doffed jacket, waistcoat and shirt in quick order, then up-ended the whole pitcher of cool washing water over his head. Regrettably, it lacked the icy sting needed to break the spell his charming charge had woven around him. A freezing creek or a chilly spring would be more effective, but he'd have to settle for this tepid water and a little discipline.
The problem was he hadn't had company in his bed for more than two months because of the voyage from Virginia. So any woman would affect him thusly. The argument did not persuade him in the least. Something about Lady Juliet called to both his noble nature and his baser needs. A dangerous combination for a man in need of a wife.
After he stripped off the rest of his clothes, he continued his vigorous washing then toweled himself dry. Not much effort needed there, with the night so uncomfortably warm. He pulled the covers all the way down and lay naked on top of the sheets, willing his mind and his aroused body to desist. It took a devilishly long time to do so.
In the flickering light of the room's one candle, Amiable stared at the ceiling, hoping that coming to the aid of this damsel in distress hadn't been the worst mistake of his life.
Readers can purchase Only Marriage Will Do at:
Amazon
B & N
About the Author:
Jenna Jaxon is a multi-published author of historical and contemporary romance.  She has been reading and writing historical romance since she was a teenager.  A romantic herself, she has always loved a dark side to the genre, a twist, suspense, a surprise.  She tries to incorporate all of these elements into her own stories. She lives in Virginia with her family and a small menagerie of pets.  When not reading or writing, she indulges her passion for the theatre, working with local theatres as a director.  She often feels she is directing her characters on their own private stage.
Jenna is a PAN member of Romance Writers of America as well as President of Chesapeake Romance Writers, her local chapter of RWA. Her debut novel, Only Scandal Will Do, is the first in her House of Pleasure series, set in Georgian London. Only Marriage Will Do, the second book in the series, is set to release in June 2015 from Kensington. Her medieval serial novel, Time Enough to Love: Betrothal, Betrayal, and Beleaguered, is a Romeo & Juliet-esque tale, set at the time of the Black Death. The next book in that series, a short story called Beloveds, will release in May 2015.
She has equated her writing to an addiction to chocolate because once she starts she just can't stop.
You can find Jenna online at:
BLOG:  https://jennajaxon.wordpress.com/
TWITTER: https://twitter.com/Jenna_Jaxon
FACEBOOK:  https://www.facebook.com/pages/Jenna-Jaxon/146857578723570