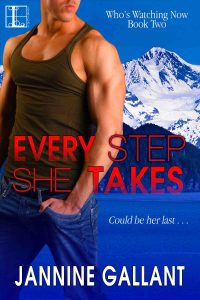 Every Step She Takes by Jannine Gallant
You can run from the past, but you can't hide . . .
 
Tough as nails, no nonsense San Francisco reporter Grace Hanover will do anything to cover the story of the decade—and her career. Having survived a painful past, she's learned never to let anything stand in her way. Even if it means following a key witness into the Alaskan wilderness, and partnering with Travis Barnett, a former Navy SEAL turned PI who's working for the Feds, and who would love to bring in Grace's witness before she can get her story. But together in the wilderness, they'll each have to put aside their differences and trust one another if they want to survive.
Because someone from Grace's past is watching, waiting for just the right moment. Every step Grace takes draws her deeper into the line of fire, and into the hands of a killer…
Every Step She Takes is currently available for pre-order at all online retailers. The official release day is tomorrow, July 7th!
Excerpt:
Something shook the underbrush near the tent. A branch snapped. At her feet, Wylie growled low in his throat. Goose bumps pebbled Grace's skin.
She lifted her head. "Do you think it's a bear?"
"Sounds more like a raccoon. If we'd left the dog outside like I wanted, we wouldn't have to worry about wildlife wandering through the camp."
"He looked so sad."
Travis snorted.
"Well, he did." She moved her feet in the sleeping bag, planting them more firmly beneath the dog's welcome warmth." Pressed against the tent wall on one side and Travis on the other, space was limited. Between fear of the unknown outside the thin nylon and the threat to her peace of mind on the inside, she'd probably never fall asleep.
"Relax, even if it is a bear, it won't bother us. I'd back your furry champion against the meanest grizzly."
Some of the tension drained out of her. "There's a reason I gave him half my stew."
"I thought reporters were tougher than old jerky. You're a marshmallow, Grace."
Warmth flowed through her at his teasing. In the tight confines of the tent, she could hear every breath he took, smell the scent of his soap, feel each tiny movement. She wanted to roll over and snuggle even closer. Gritting her teeth, she resisted the urge.
He turned on his side and stoked one finger across her cheek, the pad rough against her skin. "I'm not going to put the moves on you, so relax."
Her heartbeat quickened. "I know you're not."
"Then what's the problem?"
"I wish you'd stop being so damned nice. It makes sticking to my plan twice as hard as it should be."
In the dark, she felt more than saw his smile.
"Maybe you need a new plan."
About the Author:

Write what you know. Jannine Gallant has taken this advice to heart, creating characters from small towns and plots that unfold in the great outdoors. She grew up in a tiny Northern California town and currently lives in beautiful Lake Tahoe with her husband and two daughters. When she isn't busy writing or being a full time mom, Jannine hikes or snowshoes in the woods around her home. Whether she's writing contemporary, historical or romantic suspense, Jannine brings the beauty of nature to her stories. To find out more about this author and her books, visit her website at janninegallant.com.
Author Links:
Website
Blog
Facebook
Twitter

Buy Links:
Amazon
Barnes & Noble
Kobo