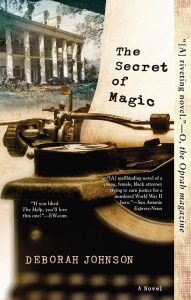 The Harper Lee Prize for Legal Fiction is co-sponsored by Pulitzer Prize winning author Harper Lee and the University of Alabama School of Law.
This year the prize has been awarded to Deborah Johnson for her novel, The Secret of Magic. Ms. Johnson is not only the first woman recipient of the award, she is also the first African-American author.
The award was created five years ago as a tribute to the 50th anniversary of publication of Harper Lee's To Kill a Mockingbird, and to honor Ms. Lee as a former alum of the University of Alabama. Past winners include; The Fifth Witness by Michael Connelly, Havana Requiem by Paul Goldstein and Sycamore Row by John Grisham.
"The prize, authorized by Ms. Lee and co-sponsored by The University of Alabama School of Law and the ABA Journal, is given annually to a book-length work of fiction that best illuminates the role of lawyers in society and their power to effect change…The Secret of Magic was chosen by a distinguished panel of judges: Wayne Flynt, author and Alabama historian; Mary McDonagh Murphy, independent film and television writer and producer; and Michele Norris, NPR host and special correspondent." From the prize committee's press release. 
The award will be presented at September 3, at the Library of Congress National Book Festival at the Walter E. Washington Convention Center in Washington, D.C.