He demands his submissive's body and soul…but can he accept his sub's heart?
Roddy Green never planned to fall in love and certainly not with his Dom, but every time he goes into Darkness, a fetish club, he falls for Vegas all over again. Being in love isn't the same as being loved in return. Vegas is there to do a job—not to build a romance. But what if the main constant in Roddy's life is also the one person he can't live without?
Andrew Vegas knows his job. He's a Dom. But there is more than one side to him and he's tired of keeping the other parts of him hidden. One man makes him feel safe and comfortable enough to open up—his pet, Roddy. But will Roddy, the producer of a local news broadcast, want to be with a man with secrets?
Reader Advisory: This book contains references to light knifeplay.
Publisher's Note: This book contains characters who also appear in Permanent.
EXCERPT:
"I'm so ready to be done with this place." Roderick Green tossed his stylus onto the desktop and groaned. He wasn't going to be able to leave until at least nine p.m. Damn it. He'd come into the news room at six that morning. Fifteen hours of scheduling, sorting through news stories and dealing with the broadcasters who didn't want to cooperate. He was damn near pulling his hair out.
He'd been a producer at Channel 25 for the last eight years. He liked his job. The news of the nation as well as local stories colored the broadcasts. The channel featured plenty of sports stories, courtesy of one of his best reporters, Tory McClellan.
Most days, he loved his job. Bringing the news and working with the various groups made him happy. Today? Not so much.
He flipped through the papers on his desk then turned to his tablet. Of all the stories planned for the next week, he had Tory's schedule, but that was all. He needed more than what Tory had given him. The broadcast couldn't feature one reporter.
But hell, he'd lost two of his reporters that year. Filling their spots hadn't been easy. He gritted his teeth. Speaking of the new reporters, where in the hell was their work?
He punched the numbers on his desk phone. Someone needed to give him answers and fast. After three rings, Holden, the main news reader, answered. "Yes, sir," Holden said. "I'm currently working on that piece about the community center. I'm trying to get interviews with the staff. The work they're doing with the young men and women is really inspirational."
"Great, but I need stuff for the end of this week," Roddy bit out. "Come on."
"Ask Susan. She's got a fluff piece on the animal rescue center. I thought she was finished."
"She's not." But he'd be sure to contact her next and give the weather girl some explaining to do. He didn't mind that she wanted to branch out and work on other stories, but she wasn't keeping up with her own workload.
"I'll have mine done this weekend and will have the comeback kid story about the young man who helps the Tigers ready by tomorrow. He was a talker, but I've got enough to do the story justice."
"Fine." Actually, really freaking good. "Okay. I can work with that. I'm looking forward to the footage." Roddy groaned. "Tomorrow."
About the Author: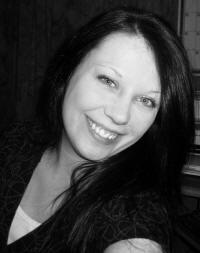 I've always dreamt of writing the stories in my head. Tall, dark, and handsome heroes are my favorites, as long as he has an independent woman keeping him in line. I love playing with words and letting the characters run wild.
NASCAR, Ohio farmland, dirt racing, animals and second chance romance all feature prominently in my books. I also write under the pen name of Megan Slayer. I'm published with Total-E-Bound, Changeling Press, Liquid Silver Books, Turquoise Morning Press, Decadent Publishing and The Wild Rose Press. Come join me for this fantastic journey! Learn more about Megan and her books by visiting her website.
Grab your copy of CONSTANT here.