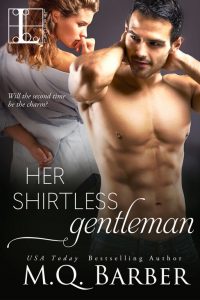 Her heart is in his hands…
After her marriage ends in betrayal, Eleanora Howard finds herself struggling to navigate the dating scene as a thirty-one-year-old divorcee. But feeling undesirable and living alone in the house she once shared with her ex is hardly the recipe for finding new love—until she meets Rob. He's just the kind of charming, old-fashioned guy she needs—but he's also eager for intimacy…
After serving in the Air Force and getting a well-paid civilian career, Rob Vanderhoff planned to settle down with the right woman and raise a family. But at thirty-six, he's still single and searching—until he meets Eleanora. She's everything he wants. All he has to do is draw her out of her shell. Soon he's taking her on high school-style dates, fanning the flames of her desire—and helping Nora re-discover the sexy, adventurous woman they both know she really is…
EXCERPT:
Rob examined Eleanora the way she pored over ledger sheets, but what she added up to in his head, she couldn't say.
"We've got the best pie in town waiting, and you have to try both." He switched sides, coming to rest alongside her with his legs stretched to the far edge atop the curving wheel well. The pie wedges sat in a paper boat he nestled in one hand. He picked up the lone fork. "Which one do you want to try first?"
She could've protested. Procured her own plastic cutlery and asked him to divide the slices. Demanded he pass over the fork and let her cut her own bites. "You choose."
He raised an eyebrow and glanced from the pie to her. "You sure about that?"
"I expect I am." She hoped, anyway. The usual effects of his proximity already trounced rational thought.
"Close your eyes, Eleanora."
She exhaled on a shuddering breath. The gruff-but-coaxing demand in his voice twanged a response low in her belly. Might be enough to overcome her nerves. Trusting David would've been impossible. But Rob wasn't David. He'd been nothing but trustworthy so far. With a slight nod, she closed her eyes.
Anticipation sluiced through her, leaving a cold fire burning in its wake. She strained to hear the scrape of the plastic fork on paper.
"Open up." His low command drowned out all other sound.
Had the first bite been apple or peach or coconut crème, she wouldn't have known the difference. Her heart ran the four-minute mile while every cell in her body, down to the ones in her taste buds, danced with excitement the second her mouth closed around the fork. Her shoulders unclenched, and she moaned without thought.
"Seems you're a strawberry-rhubarb woman." Rob's intimate whisper lacked any hint of laughter. "If you like the apricot half as well, I'll count my evening well-spent watching you sample pie."
Her internal squeeze surprised her, an involuntary response to the passionate warmth in his voice. Leaving her eyes closed, she rolled her arm. Not much, but enough to rest the back of her forearm and her knuckles against Rob's thigh. The resurgent thrill zipped through her.
"Have another taste."
She opened her mouth. Sugary-sweet fruit with a buttery crust and juice coated her tongue.
"Best pie you've ever had?"
Best service, for sure. She licked her lips. "I might be biased. Can I expand the sample size before I decide?"
He fed her small bites at a languid pace matching the laziness brought on by the summer sun.
She didn't care to open her eyes, and he never asked.
Stretching her fingers, she curled them against worn denim. The thickness had to be a seam. The bottom hem. She traced the ridge with her index finger and grazed warm flesh.
His thigh flexed. "Last bite. Best make it count."
She closed her lips and sucked the fork clean. Sweet, delicious strawberry. She swallowed it down and loosed an appreciative sigh. "Definitely the best I've ever had."

About the Gentleman series
HER SHIRTLESS GENTLEMAN is the first book in the Gentleman series. Each book is a standalone HEA story with a well-intentioned hero and a strong heroine finding each other on a sweet, erotic journey.
AN ACCIDENTAL GENTLEMAN, the second book in this contemporary romance series, will be available in 2016.
Signing up for the author's monthly newsletter at www.mqbarber.com/newsletter will deliver free short stories and updates on upcoming books to your inbox. 
About the Author:

USA Today bestselling author M.Q. Barber likes to get lost in thought. She writes things down so she can find herself again.
Often found staring off into space or frantically scratching words on sticky notes, M.Q. lives with one very tolerant, easily amused husband and one very tolerant, easily amused puppy.
She has a soft spot for romances that explore the inner workings of the heart and mind alongside all that steamy physical exertion. She loves memorable characters, witty banter, and heartfelt emotion in any genre.
The former Midwestern gal is the author of the Neighborly Affection and new Gentleman contemporary romance series. Pick a safeword, grab a partner or two, and jump in.
Find more information on MQ @:
Website/newsletter
Facebook
Goodreads
Twitter