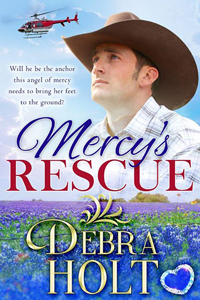 Finding himself fighting for his life after an ambush, Sheriff Josh Wellman awakens to find himself looking into the eyes of a real-life angel of mercy.
When their hands touch, he knows his life has changed in that instant.
But devastating heartbreak has left Mercy Smith's faith in tatters, her heart guarded against more loss. Her dedication to the air evac trauma team she leads has insulated her from the realities of the earth below, so now Josh faces the biggest challenge of his life.
Can he find a way to get past the walls around Mercy and convince this angel to stay on the ground with him? Can Mercy open her heart to life again and find a way to restore her faith in God…as well as love?
EXCERPT:
Mercy moved a step closer to stand beside the bed. Her voice, no longer soft in tone, was a mixture of professional and no-nonsense delivery. "I'm sorry about your officer, but the doctors are correct. You're in no shape to get out of this bed, let alone leave the hospital. Your condition is still listed as critical and for good reason."
"I'm not a very good patient. I'm not used to doing nothing but lying in bed."
"The sooner you do what you need in order to heal, the sooner you can get back to your duties and your officers. Look at it that way. Now you do need to get some sleep." She went to turn away, but his hand claimed hers quickly. Mercy's eyes met his.
"Promise you'll stop by again tomorrow? If I have that to look forward to, I'll be able to sleep." His voice was capable of making her common sense take leave. Combined with the hypnotic blue gleam in his eyes, they made a potent mixture. "Do we have a deal, angel?"
She should have known better. Of course, if she'd listened to her brain, she wouldn't have come to check on him the first night.
"I'll try."
"My angel plays hard to get—"
"I'm no angel."
Her words brought a lift of one fine eyebrow as he studied her. "Now that just gave me more incentive to follow orders and get stronger so I can get out of this bed. I may have to pursue that statement. But for the sake of argument, I say that you are a living, breathing angel with a beautiful soul in those deep brown eyes."
The small room grew warm, yet goose bumps ran riot over her flesh … in a very good way. Supreme effort was required on her part to move. "Goodnight, Sheriff." Mercy retrieved her hand and made the doorway before he answered.
"It's Josh. Call me Josh," he said. "Goodnight, sweet angel of mercy."
She cast a side-glance, but his eyes had already closed. Mercy made no reply. She didn't stop at the nurses' station but headed straight to the exit and disappeared into the stairwell. Leaving the hospital a few minutes later, she walked into the moonless night. Joshua Wellman was an enigma. Why did she feel so drawn to him? From the very moment he'd looked into her eyes in the helicopter, she'd felt this strange attraction. What set him apart from the hundreds of other patients she'd come across?
The difference begged an answer that she couldn't find. Maybe she feared what she felt in some way, afraid of dissecting the whole issue too closely. She panicked for a second when she tried to pull up the sound of her David's laughter. The only response was a pair of blue eyes and a man who called her his angel.
You can purchase Mercy's Rescue here.
About the Author: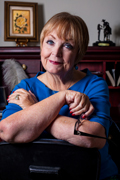 Born and raised in the Lone Star state of Texas, Debra grew up among horses, cowboys, wide open spaces, and real Texas Rangers.  Pride in her state and ancestry knows no bounds and it is these heroes and heroines she loves to write about the most.  She also draws upon a variety of life experiences including working with abused children, caring for baby animals at a major zoo, and planning high-end weddings (ah, romance!).
Debra's real pride and joys, however, are her son, an aspiring film actor, and a daughter with aspirations to join the Federal Bureau of Investigation. (more story ideas!)  When she isn't busy writing about tall Texans and feisty heroines, she can be found cheering on her Texas Tech Red Raiders, or heading off on another cruise adventure.  She read her first romance…Janet Dailey's Fiesta San Antonio, over thirty years ago and became hooked on the genre. Writing contemporary western romances,  is both her passion and dream come true, and she hopes her books will bring smiles…and sighs…to all who believe in happily-ever-after's.
*****
Nicole Resciniti of The Seymour Agency represents Debra.  Her first book, Under Texas Blue Skies, was published by Clean Reads.  Her second book, His Country Bride, will be forthcoming from Spencer Hill/Tulip Romance.  Mercy's Rescue, her third book, will launch a new romance line, Bling!Romance, in August, for Lighthouse Publishing of the Carolinas. Debra invites you to visit her website at  http://www.debraholtbooks.com/ She loves to hear from other aspiring authors or readers via email at debraholtbooks@gmail.com or follow her on twitter @debraholtbooks.