What a pleasure it was speaking with National Bestselling Author, DiShan Washington.  In addition to being an author, DiShan is also an  entrepreneur, minister, socialite, TV personality, prophetic life coach, and much more. She has penned the highly acclaimed, "Diary of a Mad First Lady," "The Preacher's Wifey," and "My Baby Is Not a Mistake." We sat down to discuss her personal journey, plays, her ministries, and her latest release, Diary of a Mad First Lady 2.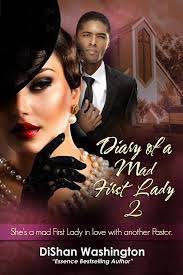 Book Blurb:
Lisa Hodges is the quiet, reserved first lady of the fast growing Pilgrim Baptist Church; and unbeknown to those around her, her quietness is a direct reflection of her discontent life. Charles, her husband, has his focus on climbing the ministerial ladder–and the many women standing in line to fulfill his every need and desire–that he fails to acknowledge his wife's growing frustration. Lisa, the mother of three, has gotten lost in the lives of her children–and in the role of being a first lady–and has long ago given up on obtaining any happiness or success of her own. Believing that her only joy came from her weekly meetings with her other first lady friends, the very sexy and talented Alex Mitchell arrives at her church, causing Lisa to feel her only happiness came in a brown-eyed, caramel-skinned, muscled, 6-foot frame. The two soon begin a sexy, whirlwind affair that results in a forbidden, shared love and an unwanted pregnancy. On the other hand, with secrets of his own, Alex threatens to expose them all, one secret at a time. Will Lisa be able to deny her love for Alex and fix the mess she's gotten herself into? Or will her actions bring down her husband, the church, and her family?
Click on the book cover to listen to the podcast of DiShan Washington's interview!
Connect with DiShan Washington on Social Media:
www.dishanwashington.com
http://www.facebook.com/iamdishanwashington
Great Christian Fiction!