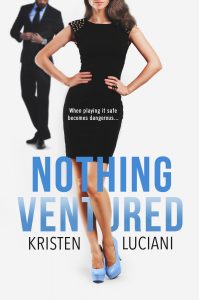 Nothing Ventured by Kristen Luciani
After suffering a devastating loss that forever changed her life, eluding love is Mia Bradshaw's primary objective…. until she's granted a coveted career opportunity to partner with Silicon Valley heartthrob, Chris Camden. But when everything she's been so careful to protect and control is put in jeopardy, can the guy with more lines than a supermarket before a snowstorm save her… and himself?
Book Two of The Venture Series 
Mia Bradshaw realized long ago that falling in love is a harbinger of pain. As a single mom working for one of the most prestigious venture capital firms in the country, she doesn't have time for serious emotional entanglements. Her sort-of–friend boy is dependable, respectful and…okay, fine, maybe a little lukewarm but whatever! Who ever said there was anything wrong with being…vanilla? It's safe, low-risk and not fraught with conflict and heart wrenching disappointment.
Chris Camden is one of the most eligible bachelors in northern California. A successful entrepreneur with a hot car and a panty-dropping grin doesn't need to do much to keep his bed warm at night. His smoldering hazel-eyed gaze makes women melt at his feet. No strings, no conditions, no questions – just the way he likes it. Why should he settle for just one when there are so many sizzling alternatives begging for a spin?
A coveted opportunity to partner with Chris's company stirs up emotions that threaten everything Mia's been so careful to protect and control. The guy with more lines than a crowded supermarket before a snowstorm can singe her insides with the slightest accidental touch, proof that she needs to steer clear.
But reality hurls a very unexpected curve ball that can change Mia's life in a heartbeat. And sometimes…the perception of safety is relative.
Excerpt:
Things had gotten a little out of hand at the club. Okay, maybe more than a little. What had started as an innocent night out with the guys had turned into something significantly more X-rated. He squeezed his eyes shut, recounting the events. Bachelorette party, wild group of girls, way too much vodka. It was the normal sequence of events for a night out but it had almost felt… old. Wait, who the fuck was he, having these crazy thoughts?
He glanced at the blonde sprawled next to him, recalling their salacious night of pretty much anything goes. What was her name again?
His iPhone buzzed on the nightstand with another text from James.
Where the hell are you?
She opened her vibrant blue eyes and trailed her fingertips down his abdomen. "So… last night was… awesome."
It had been awesome. But there was a problem. He couldn't get Mia's smiling face out of his head. "It was pretty crazy." Why did it feel like he was missing something?
"Maybe we can do it again?" Her hand crept up his leg with a mischievous smile.
"That would be great, but I have to get to the office. I've got a meeting in about half an hour."
A look of disappointment flitted over her features. "Oh, well how about later tonight?"
"Tonight's not good, either. I have a work event." He tried in vain to recall her name. Come on, think! Kammie, Kara, Kayla? "I'll give you a call."
Her face lit up. "Perfect," she purred, slithering closer. With catlike motion, she stretched one long tanned leg over his torso, straddling him. Her plump pink lips turned up in a provocative smile. "I can't wait."
She arched her back, her ample breasts swelling against him. But her efforts were wasted. Nailing the naked girl who still remained nameless was the last thing on his mind. "Do I have your number?"
She hopped off him and jutted out her hip. "Give me your phone." After snapping a selfie, she typed something. With a flip of her bleached waves, she tossed the phone back and shimmied into her dress. "See you soon."
A moment later, the front door slammed.
He smirked and looked down at the phone. Kate. That was it. Not that he had any intention of calling, regardless of what went on the night before. No, someone else had managed to creep under his skin. He'd only met Mia twice, barely had more than a few snippets of conversation with her, but she permeated his thoughts more frequently than he cared to admit. He covered his face with his hands and groaned. "Enough! Since when do I let a girl get to me like this?"
Maybe he was finally bored with the chase.
He picked up the phone and glanced at Kate's selfie.
Maybe there was more to life than hot random sex and fake boobs.
You can purchase Nothing Ventured  at:
Amazon: http://amzn.to/1KaYYpn
B&N: http://bit.ly/1Luy7oo
iBooks: http://apple.co/1Ld2tzP
Smashwords: http://bit.ly/1KOSNNj
About the Author: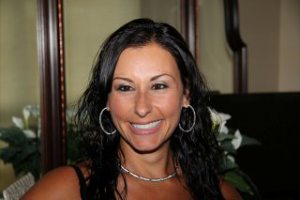 Kristen Luciani is a self-proclaimed momtrepreneur with a penchant for Christian Louboutins, Silicon Valley, plunging necklines and grapefruit martinis.  As a deep-rooted romantic who prefers juicy drama to fill the lives of anyone other than her, she tried her hand at creating a world of enchantment, sensuality, and intrigue, finally uncovering her true passion. No pun intended…
You can find more about Kristen online at:
Nothing Ventured Playlist Link on Spotify
Website
Twitter
Facebook
Goodreads
LinkedIn
Pinterest