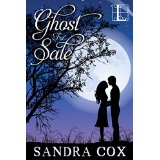 Caitlin King can't believe that her shopaholic cousin actually bought two ghosts off of eBay. But she can't ignore the truth when she starts seeing sexy Liam O'Reilly, who's been dead for over a hundred years. He's a fascinating specter, and the more time Caitlin spends with him, the closer they become—sending them both spiraling into a star-crossed tailspin. No matter how desperately they long for each other, there's just no future with a guy who's already stopped breathing.
In order to help Liam and his twin sister, Anna, leave their earthly limbo and cross over into the light, Caitlin must find the ghost of Anna's fiancé. But a malevolent spirit is dead set against Anna moving on. Now Caitlin will have to unravel the mystery surrounding the twins' past lives in order to keep Liam's spirit safe—even if it means sacrificing her heart in the process.
"A fun, energetic, and humorous YA/NA read!" Reader's Entertainment
About the Author:

Multi-published author Sandra Cox writes YA Fantasy, Paranormal and Historical Romance, and Metaphysical Nonfiction. She lives in sunny North Carolina with her husband, a brood of critters, and an occasional foster cat. Although shopping is high on the list, her greatest pleasure is sitting on her screened-in porch, listening to the birds, sipping coffee and enjoying a good book. She's a vegetarian and a Muay Thai enthusiast. Readers can find Sandra at sandracox.blogspot.com, on Facebook, or at twitter.com@Sandra_Cox.
Available September 29, 2015 @ amazonkindle, Apple, Google,Kobo, Nook