College is supposed to be fun…
Go to parties
Pick up guys
Maybe get in a little trouble
On the surface Cami is your average, wild teenager out to have a good time, but inside she's struggling. Almost a year ago her best friend was in a car accident, an accident Cami feels responsible for. Since then, she's made it her personal mission to experience everything life has to offer, both for herself and for Julie, who will never have fun again.
Then she meets Liam, her cousin's sexy roommate. Hooking up with a hot British dude seems like the perfect way to start off the school year, but the more time she spends with him, the more she finds herself actually liking the guy. Which totally screws up her plans to live life with no regrets…
Excerpt:
"You must be Cami," he said when I didn't speak.
"I am." That was probably the fewest number of words I'd ever said since learning to talk. I swallowed and tried again. "And you're Liam. I don't know why we haven't met before now. I've met most of Ryan's other friends and he talks about you all the time. I mean, not in a creepy way. He just tells me funny stories about you guys going to bars and stuff. I think he does it to make me jealous, though. He knows I love to go out and have fun and party, and he's just mean enough to rub it in. But not really. I mean, Ryan isn't mean. He's never done a mean thing in his life!" I was talking too fast to really keep track of the words coming out, but I was aware enough to know I probably sounded like a broken record. Why did I keep saying the word mean?
Liam's lips twitched and his eyebrows shot up. I slammed my mouth shut because I knew I was babbling. Most of the time guys hated that about me. I did not want Liam to hate me. It's just that I had a really tough time controlling the stuff that came out of my mouth.
"Nervous talker?" Liam's eyes twinkled like I was the most amusing thing he'd ever seen.
I snorted, and even though I knew it was a really bad idea to let all the stuff swirling around in my head come out, there was no way I could keep my mouth shut after that comment. "No! You must have a pretty high opinion of yourself if you think your British accent and imitation sex hair can somehow make me all tongue-tied and awkward. I just talk a lot. Let's face it, most people don't have many interesting things to say, but I do. I have gobs and gobs of fascinating thoughts going through my head at any given moment, and I feel like it's my duty to share them with the world."
"Imitation sex hair?" Liam pressed his lips together like he was trying to hold back a chuckle, but it forced its way out. It was so adorable, I swear my knees wobbled.
I maintained as much composure as possible as I waved my hand toward his head, almost like I was trying to cast a spell. "Yeah. Isn't that what you have going on there? I'm on to your little scheme. Guys like you have that sexy, messy hair for a reason. It's specifically designed to make girls wonder how it came to be so messy, and wish they'd been the one to help you with it in the first place. Bam!" I clapped my hands in front of his face. "Next thing you know you're in bed together."
"Bam?" Liam smirked and leaned against the wall. "I don't recall that sound effect ever gracing my bedroom."
My cheeks flushed when my mind wandered to what went on in his bedroom and the sound effects that would mostly likely go along with it. Just like that, I was back to thinking about running my fingers through his blond hair. Damn him and his imitation sex hair!
You can purchase No Regrets at:
Amazon
About the Author: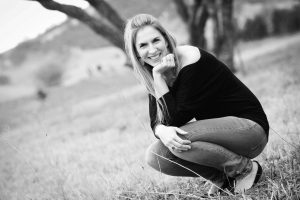 Kate L. Mary is a stay-at-home mother of four and an Air Force wife. She grew up in a small town just north of Dayton, Ohio where she and her husband met at the age of twelve. Since their marriage in 2002, they have lived in Georgia, Mississippi, South Carolina, and California. She currently resides in Oklahoma with her husband and children.