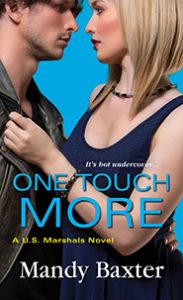 When falling for the wrong person is exactly the same as falling for the right person………One Touch More
Many Baxter continues her thrilling series which blends contemporary romance with suspense featuring protective, loyal, brave and sinfully handsome U.S. Marshals. Mandy Baxter strikes again with a hot new addition to her US Marshals series, One Touch More! A steamy romantic suspense with a perfect blend of action and sex that will appeal to anyone who likes a good bad boy.
Strong, relentless, and lethal, he plays every angle to trap the worst criminals. But for the one woman he can't resist, he'll break all the rules…
For hotel manager Tabitha Martin, bad boys usually spell disaster. And her new guest promises just that, with his formidable build, tattooed biceps, and quiet take-no-mess attitude. Tabitha is already putting everything on the line to escape her vicious drug-dealing ex's control for good—but a single sizzling moment in "Damien Evans'" arms has her wanting all the trouble he can give…
He's been undercover too long and likes living dangerously too much. U. S. Marshal Parker Evans figures maybe that's why he doesn't immediately put Tabitha in custody. Sure, she's his one chance to finally take down a major drug ring. But every minute he protects this mostly innocent blonde leaves his heart all too vulnerable. And the cost of desire could be a deadly endgame…
Praise for Mandy Baxter's One Night More
"Fast-paced and full of heat, this is romantic suspense done right!" —Julie Ann Walker
"The perfect mix of steam and on the edge of your seat suspense. I couldn't turn the pages fast enough." —Tracey Garvis Graves
One Touch More is available at these retailers: Amazon, B&N, BAM,IndieBound, Target, Walmart,Hudson Booksellers
About the Author: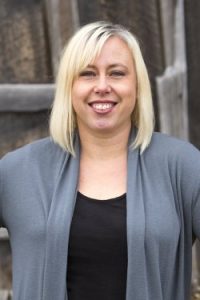 Mandy Baxter is a part time pet wrangler, a full time sun worshipper, and only goes out into the cold when coerced. She loves black clothes, pink appliances and thinks junk food should be a recognized food group. She lives in rural Idaho with her family.