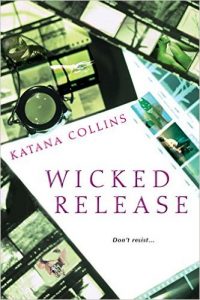 Wicked Release by Katana Collins
Give into the pleasure…
As the investigation into her sister's murder continues, forensic photographer Jessica remains committed to finding the killer and navigating her own complicated relationship with Sam, the local detective on the case. But when one of her photos reveals the identity of her sister's boyfriend, a man previously only known as Master, Jessica finds herself drawn to his dominance. Going under cover as lovers to infiltrate a drug ring, Jessica can't deny her fascination for this darkly mysterious man. To get to the truth she faces a choice: trust her instincts and stay true to her heart or give into her passion and enter a world of unknown danger…
Excerpt:
The brake was tight beneath my foot as I pulled my black sedan behind the Lincoln. My partner in the other car was a smart man. But intelligence doesn't always translate fluidly into the real world. And I was smart, too. Something everyone needed to be occasionally reminded of. Rolling my window down, I knocked twice against my car door, to which he responded with the proper one knock back before sliding out of the space and driving off.
I coasted into his spot, putting the window back up so that no passerby could see my face from behind the tinted windows. Moments later, I received his text:
The house has been quiet all weekend. She opened the door only for food deliveries.
But that didn't account for the damn tunnel that extended from the beach right into her basement. Which she now knew about. That tunnel was the single, most important reason we needed Cassandra to join our operation in the first place. Our main means of transport to move the drugs without anyone seeing and for everyone to have an alibi—the masquerades. And now it was gone. Soon that tunnel would be crawling with uniforms like ants on a cookie. Well, I suppose that just meant I needed to find them another cookie to distract with.
A tremble rolled through my body at the memory of a few nights ago; the way Jess froze when she saw me running, escaping after I attacked her detective boyfriend. How the handle of my gun pressed into my gloved hand, my fingers tickling that trigger. Thank God I had the mask on—played along as always at those parties. I hadn't counted on her finding the tunnel so quickly. Which only proved that she was sticking her nose where it didn't belong.
Oh, how I wanted to kill Sam that night. But adding a cop murder on top of everything? It would have resulted in a manhunt and the last thing we needed was more attention brought to us. Maybe now with Zooey as our fall, everyone would back the fuck off—particularly Jessica.
I shook my head, inwardly chastising her. Tugging my camera from its bag on my passenger seat, I zoomed in on the windows of the house. The curtains were drawn. Squinting, I focused on the guest room just as a breeze from a passing person caught the corner of the curtain.
Leaning back in my driver's seat, I relaxed. If Jessica was anything like her sister, it could be a while before she was ready.
But even as I settled in and reclined my seat, preparing for a long morning, the bright pink door of the house swung open and she exited, keys in hand and dragging a rolling suitcase behind her. My spine straightened, hairs all standing on end. Was she leaving town? If she knew what was good for her, that's exactly what she should be doing.
With a tentative look over each shoulder, she loped down the steps and into her car. Just where are you off to, Jessica? There was a new sort of hesitancy in her demeanor. A…fear. My smile widened and I felt a raw chuckle rasp at the back of my throat as excitement danced in my veins. Yes, she was definitely afraid.
She pulled out of the driveway and I shifted into gear, following behind at a respectable distance, keeping at least two cars between us. In my business you get damn good at following without being spotted. Two rights. A left. Another right.
A chill rocked my entire body, turning my blood to ice, as we took the last right turn. Fuck me. I knew where we were going.
I parked my car into a spot in the farthest corner of the parking lot, out of view of the security camera.
The cold metal of my gun scraped against my ankle. Cracking my neck to each side, I took a deep breath, putting the car in park just in time to see Jessica stop at a coffee cart and purchase two cups of coffee, still dragging the suitcase behind her.
Jessica had only parked a few cars away. Flipping my jacket collar up, I also tugged my hat lower onto my eyes, shielding my face. Grabbing the five-by-seven glossy images from my passenger seat, I flipped through them one last time. Running a gloved finger down Cassandra's face in the image, I sighed. It really was such a waste. She was one of our best distributors. Coy, unassuming; no one ever suspected her. But she had to go and ruin it for everyone.
As I flipped through the photos, goose bumps lifted on my arms. I scanned the curve of her hips as she stretched to zip her dress. My groin tightened as I remembered her last scream before my bullet penetrated her heart.
Unzipping, I ripped off one glove and gripped my dick, squeezing hard as I stared at her face. I flipped to the next image—the moment she looked out the window and saw someone there on the sidewalk. Her eyes were wide, mouth turned down. Forehead wrinkled. Terror. I groaned and came hard as I bit the inside of my cheek, coppery blood filling my mouth.
Pain. Sex. Fear.
Blood.
I dropped my head back against the seat and closed my eyes for a second before wiping my hand and putting my glove back in place.
Get out of that house, Jessica. Get out and let my men do their job, find what we need. And if these images didn't scare her? Well, I could find ways to make the message clearer.
I glanced through the rest of the pictures, making sure all the photos were accounted for. There were three of Cassandra getting dressed and three of Jessica dressing before Friday's party. I slid them evenly into an envelope before I opened my door. I knew the location of every security camera inside and out of this building and up until the eighth row of parking you couldn't be spotted in the far corners. Keeping my hat over my eyes just in case, I made my way across the lot. As I passed the front of Jessica's car I dropped the envelope onto the hood and then walked around to the back of the building. 
You can purchase Wicked Release at:
Amazon 
About the Author: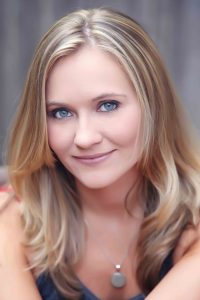 Katana Collins splits her time evenly between photographing boudoir portraits and writing steam-your-glasses romances. She is the author of other sexy romances such as Wicked Exposure, Soul Stripper, and Capturing You. She and her husband commute back and forth between Brooklyn and Portland, Maine with their ever-growing family of rescue animals (two dogs, a cat and counting!). She can usually be found hunched over her laptop in a café, guzzling gallons of coffee, and wearing fabulous (albeit sometimes impractical) shoes. Visit her on Twitter or Instagram (@katanacollins) or on the Web at katanacollins.com.