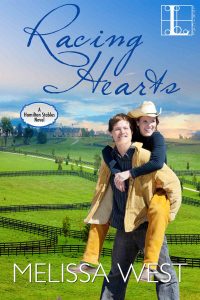 In the lush heart of Kentucky, the Hamiltons are horse racing royalty, born to produce champions. To win takes heart and soul—and to love takes the wild spirit of the land itself…
The oldest of three headstrong brothers, Trip Hamilton is considered the best horse trainer in the world. But he learned long ago to keep his focus on the horses and away from the riders. He's seen the way heartbreak can waylay a career, and he's determined not to risk it—until a stubborn, sexy rider thunders into his life, breaks his resolve, along with several of his rules, and takes his heart right out of the gate…
Emery Carlisle has a point to prove. She'll be the first woman to win the prestigious Kentucky Derby, if only Trip will hire her, and let her ride the spirited colt she fell for at first sight. He won't—unless she agrees to train with the horse at Hamilton Stables, under his guidance. It's supposed to be strictly business, but as the race approaches, and their undeniable chemistry builds, Trip and Emery may be headed for the greatest win of all—as long as the losses of the past don't gain on them…
Excerpt:
"One more thing, Trip, honey. Was that Emery Carlisle I saw you with earlier?"
Trip blinked. "Sorry, what?"
"Out by the road. I saw you with Emery Carlisle. What was that about? She came by the shop a few days ago. Is she in town now? Is she visiting the stables? Is she working for you?"
He shook his head and took a step back, unsure how one small woman could ask so many questions without her head spinning. "Sure, that was Emery. If that's all, I need to—"
"I saw him with her, too."
Trip drew a breath to calm himself and turned to see Hayden Christian leaning over his jelly and jam booth, accidentally knocking one of the jars to the ground and shattering it into pieces. Several people passing back jumped out of the way of the red glob and glass, but even that didn't keep Hayden from watching Trip for a reaction.
"I…yes, that was Emery, but I'm not sure how that's—"
"But what's she doing here?" a third voice asked, and Trip prayed to the Man above to give him an ounce of patience before glancing over to the booth on his left. Charlotte Myers had her hands on a rack of handmade purses and hats, but her eyes were fixed on Trip. Suddenly the warm air felt downright scalding. He needed an escape route, fast.
Just then, he felt someone's hand on his forearm and swung around, sure the whole town surrounded him now, only to find Emery standing impossibly close, her face lit with humor.
"Hey there," she said, squinting into the sun. "Annie-Jean asked me to fetch your muscles for some lifting. You up to it?" She winked, and Trip thought that might be the best thing he'd seen all day.
He peered around at Patty and Hayden and Charlotte, and now even Mayor Phillips was outside town hall, suspenders fastened tight to his pants like always, scratching his head like he'd just seen the most peculiar thing imaginable. "I'm going with yes," Trip said, pressing his hand to the small of Emery's back to lead her away. "Though of course you realize you just made this worse, right?"
Emery lifted her gaze to his. "What is this?"
"Our affair."
"Our what?"
"Yeah, they're plotting out the details right now. Half the town saw me help you with that box, and then you came over and flashed me that smile. It's done now. Might as well hold my hand. Give them a good show, ya know?"
"Wait a sec." Emery stopped walking, her hands on her small hips, her face all scrunched up in anger. Trip couldn't help but grin. Even mad, she shined. "How did I supposedly smile at you?"
Trip leaned in close, catching the faintest scent of vanilla on her neck, before whispering in her ear, "You know, like you want me." He pulled away with a smile of his own, and her face flushed Red Hots red. From embarrassment or rage, he couldn't be sure, though he had an inkling she erred on the rage side these days.
"You're impossible."
His grin widened. "Impossibly right."
"Ugh, forget Annie-Jean; I'd rather pull a muscle than ask you for help." She stormed off, but Trip's long legs caught up in no time.
"Settle down, lady girl. It's been a long time since I've been able to mess with you. I've missed it."
She flashed him a cocky smile. "First beautiful, now missing me? Damn, I must have done a number on you."
Trip stared down at her, not a hint of humor on his face. "No denying that."
You can purchase Racing Hearts at:
Amazon
 About the Author: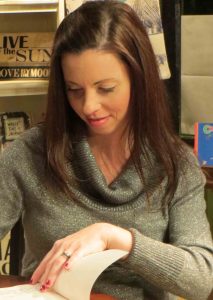 Melissa West writes heartfelt Southern romance and YA sci-fi romance, all with lots of kissing. Because who doesn't like kissing? She lives outside of Atlanta, GA with her husband and two daughters and spends most of her time writing, reading, or fueling her coffee addiction.
Connect with Melissa at www.melissawestauthor.com or on Twitter @MB_West. And for sneak peeks at upcoming titles, prizes, and more, join Mel's Madhouse: https://www.facebook.com/groups/MelsMadhouse