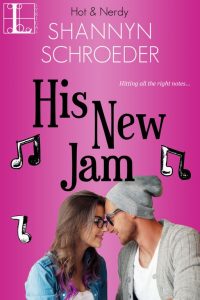 His New Jam by Shannyn Schroeder
Sydney Peters can't wait to finally drop the cymbals in marching band and devote time to her true love: drums. With the semester coming to a close, she's blocking out the cacophony during practice, especially sax serenades from Hunter Reed. But when Hunter offers her a paid gig as a drummer in his band, Sydney quickly changes her tune. The two favor different styles, but they make beautiful music together…in more ways than one.
Hunter is fascinated by Sydney's distant allure. He might be a ladies' man on campus, but the sarcastic cymbalist is impervious to his advances. When Hunter sees how passionate Sydney is behind the drums, he orchestrates a plan to find out if she kisses like she plays. What he doesn't anticipate, however, is falling so hard. But will the repercussions of his past crash down on his chance at something real?
EXCERPT:
"Sticks are cool." She bent and grabbed hers, twirling one in place.
"That's the problem. Kids think they can sit down and start right there."
"Of course. So let 'em try and fail. Then they'll want you to teach them."
For the first time in years, nerves took over his body. He wouldn't be able to sell this. Kids would see right through him.
"Sometimes, you need to give them a taste, so they know what's coming."
"Huh?"
"Come here." She stood and backed away from the stool.
Hunter took her place and she handed him the extra sticks he'd left by the kit. He wrapped his fist around each stick.
Sydney leaned over his shoulder and reached for his hand. She peeled his fingers away and repositioned them. "Grip matters."
Her sexy whisper skittered across his neck and his dick perked up.
"Not too hard. You're not choking someone. And not flimsy. Nice and firm." Her fingers curled over his, warm, smooth, and firm.
He closed his eyes because he could totally imagine her whispering those words while they were naked. His pants were noticeably tighter. He shifted to find some relief and his shoulder connected with a tit. He expected her to pull away, but she didn't. She might've even leaned a little more into him.
"Find your rhythm," she said and then stepped away.
He stared at the two toms and struck the same beat they'd done against their legs.
"Whoa," she called.
He stopped and looked over his shoulder at her.
"If you pound away like that, you're going to do damage to your hands. Best case, some raging blisters. Worst case, tendonitis or carpal tunnel. Loosen your grip."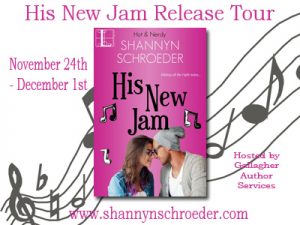 Again, her hands came over his and made the motions with him. He should've felt like an idiot, but he couldn't, not with her pressed against his back, her spicy perfume filling his senses. His mouth watered with the thought of tasting her skin.
She continued through a few measures before straightening. This time, he felt her arch her back. Her stomach grazed his arm as he continued to play. He wanted to make her move like that in bed and the picture in his head caused him to miss a beat.
Sydney shoved his shoulder. "That's enough for today. Don't you think? Practice basic rhythms, mix it up a little. If you want, we can read some music next time. I'm sure that'll be easy for you."
He stood, not wanting her to leave yet. "You want a beer now? Take a little break after all your hard work?"
She rolled her upper lip into her mouth and bit down. She might've been trying to hide a smile. At least he hoped so.
"It's a beer. I promise I won't tell anyone."
"A beer would be good."
And that was the window of opportunity he was looking for. Hunter now knew he'd break down whatever barrier had kept her icy for months. She was at least a little interested in him. He'd worked with less.
You can purchase His New Jam at:
Kindle
Nook
iBooks
Kobo
Shannyn Schroeder is the author of the O'Leary series, contemporary romances centered around a large Irish-American family in Chicago and the Hot & Nerdy series about 3 nerdy friends finding love. When she's not wrangling her three kids or writing, she watches a ton of TV and loves to bake cookies.
You can learn more about Shannyn at:
Web site
Goodreads
Twitter
Facebook
And, Shannyn is hosting a giveaway!!
Rafflecopter Giveaway- Ebook copy of His New Jam
<a href="http://www.rafflecopter.com/rafl/display/e4be888238/" rel="nofollow" data-raflid="e4be888238″ data-theme="classic" data-template="" id="rcwidget_3kznnrwv">a Rafflecopter giveaway</a>
<script src="//widget-prime.rafflecopter.com/launch.js"></script>