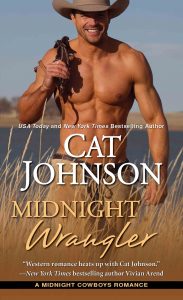 Midnight Wrangler (Midnight Cowboys) by Cat Johnson
One Lonely Widower…
Rohn Lerner is a successful Oklahoma rancher. He's old enough to know what he likes, and still young enough to enjoy it. But losing his wife five years ago wore him thin. He's not ready to date, but he needs someone to share a meal with as badly as someone to warm his bed.
One Woman with a Secret…
 Bonnie Martin fled her Oklahoma home years ago, leaving behind her abusive father, and Rohn, the lost love she never forgot. Now she's back to settle her father's estate, but she has no idea that she's about to bump into Rohn or that they'll fall for each other all over again.
One Night That Changes Everything…
EXCERPT:
Some days no matter what a man did nothing seemed to go right. Today at the Double L Ranch was one of those days.
Rohn Lerner let out a sigh tinged with frustration as he found his three ranch hands shooting the breeze by the barn instead of tackling all the chores that needed to get done.
"Hey!" He strode toward the group.
"Hey, boss." Tyler tipped his chin in Rohn's direction. "What's up?"
Tyler was usually the ringleader of the lazy hands so his what's up particularly rubbed Rohn the wrong way today. They'd know what was up if they weren't so busy jabbering.
Rohn came to a stop as he reached the three young men. "The bull pushed over the water trough again."
Tyler glanced at the field where the bull was currently penned without water. He scrunched up his face and looked back to Rohn. "Yeah, I saw that before."
Rohn's eyes widened at the revelation. "Then why aren't you over there refilling it?"
These boys had been working for Rohn for enough years that they should know what to do without him having to tell him.
Colton knocked his hat back a notch. "We're fixin' to get to it, Rohn. Relax."
"You're fixin' to get to it?" Being told to relax by an employee half his age made Rohn's blood pressure rise. "And when would that be, this getting to it?"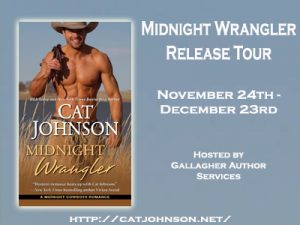 "We were going to head over right after lunch." Justin, a couple years older and apparently wiser than the other two, stepped in with his attempt to soothe the situation.
"That bull is worth his weight in cash, so how about if he gets his water before y'all get your lunch?" Rohn would really like to know when the youth of this country had been taught that it was all right to talk back to their boss. Probably about the same time they'd convinced themselves it was all right to put off doing important tasks until later.
Justin gave a nod. "A'ight, Rohn. Sorry, but you know in this kinda weather the hose bakes in the sun and we have to drain the hot water outta it before we can fill the tanks. I just figured since we were going to scrub and refill all the buckets after lunch anyway, we'd take care of it then instead of wasting the water draining it twice."
They had been through some pretty bad droughts lately in this part of the country, and wildfires were always an issue in Oklahoma. Justin's point about saving water was a valid one, but Rohn was in no mood to concede that.
He cocked one brow. "Then maybe you outta finish all the watering now and then take a late lunch."
Tyler blew out a breath. "Somebody's cranky today."
"Today?" Colton frowned beneath the brim of his cowboy hat. "Try every damn day lately."
"Yeah?" Rohn lifted his brows high and hooked a thumb toward the drive. "There's the way out. Y'all feel free to hit the road and look for another job whenever you want."
Colton snickered. "Yeah. All right."
It was Rohn's own damn fault. He'd always been more of a friend to these kids than a boss. He'd joke around and act like a buddy, but in his current mood that last threat hadn't been completely in jest.
Tyler turned to Colton and Justin. "Can you two go on over, right that trough and start on the water? I'll meet you out there in a bit and we'll figure out how to make it stay upright for good this time."
Colton's mouth dropped open. "Since when do you get to tell Justin and me what to do?"
"Since I wanna talk to Rohn alone for a minute." Tyler crossed his arms over his chest, not backing down.
"Come on, Colt. Let's go." Justin tipped his head toward the field.
Colton continued to sputter. "But why should we?"
"So we can talk crap about Ty behind his back, that's why." With a grin, Justin winked at Tyler and pivoted on the heel of one boot toward the pasture. Colton shot Tyler a parting glance that expressed exactly what he thought about the situation, but followed Justin.
Once they were gone, Tyler turned to Rohn. A crease furrowed the forehead above his dark brows. "You a'ight? You need to talk?"
Rohn let out a snort. "What, are you a therapist now?"
"No, I'm your friend. And it wasn't too long ago you pulled me aside to talk privately when I was wrestling with some shit of my own. Remember?"
That all had been barely a couple of months ago. Back when Rohn had been dumb or desperate enough to listen to Colton and ask his widowed neighbor Janie out on a date. Rohn remembered that dinner with Janie, as well as the exact moment he'd figured out that the woman already had feelings for Tyler.
That's what Rohn got for taking relationship advice from a twentysomething-year-old cowboy with little experience and no serious girlfriend that he knew of.
Meanwhile, being twenty-four and dense as a lump of coal, Tyler had been too young and stupid to realize how Janie felt until Rohn had explained it to him.
Nope. Rohn hadn't forgotten any of it. "Yeah, I remember. Except what you were wrestling with was that a beautiful, smart, intelligent woman was in love with you. So, I'm sure that shit wasn't all that difficult for you to get over."
Tyler tipped his head. "I was miserable for a while, just the same, and you stepped in and straightened me out."
"Somebody had to." Proven by the fact that since that conversation as far as Rohn could see, the couple was not only together, but looking pretty serious. If he wasn't mistaken, Tyler was all but living at Janie's. "So are you officially moved in to her place yet, or just staying over there every night?"
Tyler opened his eyes wide. "Wait a minute. Is that what this crap mood of yours is about? You're upset I'm with Janie?"
"No, I'm not upset you're with Janie." Rohn shook his head, sorry he'd said anything at all. "As long as you're treating her right, I'm happy for her and for you. That's not it at all."
"Then what is it?" Beneath the brim of his hat, Tyler drew his brows low.
"Nothing." His love life, or lack of one, was one thing Rohn didn't want to discuss with a cocky twenty-four-year-old who had everything in the world at his fingertips and his whole future ahead of him.
"Rohn, come on. Just spill it." Tyler crossed his arms and leaned back against the fence, as if he was willing to wait as long as it took.
Damn persistent kid. Rohn silently mouthed a cuss, but finally gave in. "I guess I'm just kinda lonely sometimes, okay?"
Tyler threw his hands in the air. "That's why I've been telling you to come out with us. You ain't meeting any girls here at the ranch."
"And I told you I don't want to meet girls and I'm not going to find a woman of any substance at the bars where you yahoos hang out."
"Then set up one of those online dating accounts. They have them for older folks now."
"Older folks?" Rohn let out a snort as that hit him hard, like a punch to the gut. "Great. Thanks a lot."
YOU CAN FIND BUY LINKS AND MORE ABOUT MIDNIGHT WRANGLER BY FOLLOWING THIS LINK.
About the Author:

A New York Times and USA Today bestselling contemporary romance author, Cat Johnson is known for her creative marketing practices. Cat has sponsored bull-riding cowboys, promoted romance using bologna and owns a collection of cowboy boots and camouflage for book signings. A fair number of her research consultants wear combat or cowboy boots for a living.
Author Site: http://CatJohnson.net