One thing you realize when you get a chance to sit down and chat with author, and journalist, Tina DeSalvo, is that she's a fantastic interviewer! It was such fun having her on the show tonight and interviewing me! The tables were indeed turned, but it was still a great chance for me to sit and chat with a fellow author, tall girl, and friend about the journey, books, Christmas romances, Remington Steele, and yes, ugly sweaters! Oddly enough, I've never received one, but that doesn't mean they don't make me smile all the same!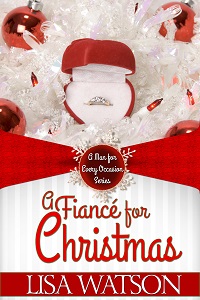 Book Blurb:
How do you work in the Christmas industry, and not love Christmas?
Alyssa Bailey has lost count of how many times either she, or someone she knows, has posed that question. It's not that she dislikes this time of year, but it's a painful reminder of what she no longer has: her father. Now family gatherings don't feel the same.
Throwing herself into her job, Alyssa soon becomes indispensable to her boss, Julian Hawthorne. When she literally runs into Niles, Julian's younger brother, she leaves an indelible impression. Soon, she finds herself working with Niles, and his mother, Nadine Ray Hawthorne on an annual holiday event at a local Children's hospital.
Niles Hawthorne is surprised to find that he and Alyssa have much in common. It doesn't take him long to realize that his unexpected partnership with Alyssa is special. She's talented, funny, and drama-free. Something that he's come to appreciate lately.
When they discover that unexpected loss is another similarity they share, their bond grows. Eventually, neither can stop the undeniable pull of attraction.
Will this Christmas bring Alyssa a love that lasts forever, or will the company's ironclad rule of no employees dating keep them apart?
 Click on the book cover image above for the link to the Podcast!
Connect with Lisa on Social Media:
www.lisawatson.com
www.facebook.com/NCLisaWatson
www.twitter.com/LisaYWatson
I'm also on Pinterest, Instagram and Goodreads, so stop by and say Hi!