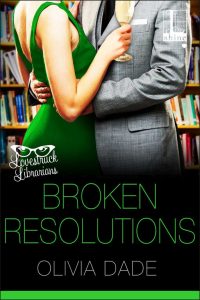 Broken Resolutions by Olivia Dade
LOVE BETWEEN THE LINES
Romance has never had a happy ending for librarian Penny Callahan, who could write the book on cheating, heartbreaking liars. So she's made a resolution: no men for the next twelve months. If she can just get through the library's New Year's Eve singles night, she can return home to her pajamas and a good book. But when she finds herself checking out a hot hunk with an irresistible smile, an evening in the stacks becomes a lot more tempting…
Reclusive author Jack Williamson never should have trusted his mother. Even though he's trying to avoid being recognized, she guilts him into attending a dating meet-and-greet—where an adorable librarian makes him question his lonely lifestyle. Is this just a fleeting, flirty scene? Or could love be the next chapter for them both?
EXCERPT:
"I can't host the New Year's Eve singles event tonight," Angie said, her voice crackling slightly in Penny's ear. "My sister thinks she might be in labor. Again. I need to get to the hospital right after my shift."
"How many false alarms have there been?"
"Too many." Angie sighed. "Remind me never to get pregnant. If I decide to have children, I'll contact a stork. Or a cabbage patch."
"Will do."
"Thanks. But that's not why I'm calling. I need someone to cover for me tonight."
"Then you should call Mary. She's always looking for extra hours." Penny held the cell phone next to her ear with one hand and squeezed some ketchup onto her plate with the other. She dipped a fry and popped it into her mouth.
"You know how flustered Mary gets when she's working alone. And this is such a big event." Angie paused. "Penny—"
She closed her eyes at the pleading sound of Angie's voice. The other woman was Penny's dearest friend, as well as her supervisor at the small library branch where they both worked. Penny wanted to help her. Really. But there was no way in hell she was spending her New Year's Eve at her workplace, especially as the host of this particular event.
"I know you're really excited about the singles' night, Angie," she said. "And I know we need the money for children's programs. Believe me, I'll be grateful to get a larger budget. But I'd be a terrible host for the event. I just don't see the library as a romantic hotspot. Or how we can connect a singles' night to our branch's mission."
Penny loved the Battlefield Library. But it was hardly a repository for eligible bachelors. In fact, spotting a handsome, single man there evoked much the same reaction as watching a unicorn canter through the stacks: Awe. Wonder. Confusion. And then, inevitably, he turned out to have a life partner named Raoul or Steve. Or she'd see him listed in the sex offender database. Or he'd spend way too long in the true crime section, emerging sweaty and trembling.
Which reminded her—Bob had gotten a book in the delivery that morning. She needed to set Murderous Intent: The Most Gruesome Killing Spree Ever Recorded aside for him.
"I took care of the library-romance connection," Angie said. "I came up with games and activities that involve books."
"Are they bobbing for paperbacks?" Penny asked. "Because I might enjoy watching that."
"Nah. I've got a few other things in mind. Sexier things."
Penny paused with a fry halfway to her mouth. "Angie…"
Just last week, the two women had celebrated the end of Angie's month-long work probation. The library administration had objected to her display of erotica, especially the big poster at the top. That sign had read "Spanking-New Books" and featured a flesh-colored book cover with a large pink handprint on it. The display had proven very popular. But it probably wasn't the best example of professional judgment Penny had ever witnessed. She'd tried to warn Angie, but her friend didn't take advice well. Or at all.
"Don't worry," Angie said dismissively. "It's all been approved by the Board. Except that one game, Fifty Shades of Dorian Gray. I told them it was all about classic literature, but they couldn't get past the name."
Penny tried a different tack. "You know how much I hate large groups of people. One-on-one, I'm fine. But I can barely get up in front of fifteen toddlers without hyperventilating. Hosting a singles' night for thirty adults? Forget about it."
"I need you," Angie said.
"You need to call Mary. It's New Year's Eve, and I'm not wearing makeup, a tight dress, or uncomfortable heels. I'm not feeling awkward in a crowd. I'm not worrying about what's going to happen at midnight. I'm not evaluating whether or not to kiss some guy I barely know. Right now I'm sitting on my couch at home, wearing my pajamas. I'm eating my burger and fries in front of the television. This is basically a dream come true for me. Please don't ruin it."
"That's the most pathetic dream I've ever heard," Angie muttered.
"You're not helping your cause. Plus, this event violates my New Year's resolution before the New Year even begins."
"I know. You want to avoid men for a year. So you can wallow in your loneliness."
"No. So I can get my head on straight and stop picking men who lie to me."
"Six of one…" Angie drawled.
"I'm about to hang up," Penny warned her. "Call Mary."
"Okay, okay. What can I offer you to make this happen?"
"Nothing. Have you looked outside recently? The snow is coming down so fast I can't even see my mailbox at the end of the driveway. Also, did I mention my pajamas? Because I'm totally wearing pajamas."
"There must be something," Angie pleaded.
Penny thought hard. Yes, there was one thing she wanted even more than a peaceful, man-free New Year's Eve. "Every Saturday off in January. There's a pottery class I want to take."
"Every Saturday?" Her friend sounded horrified. "But there are storytimes on Saturdays. With…kids."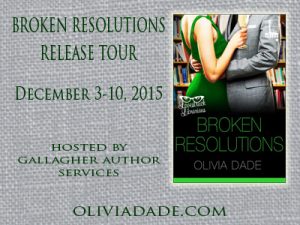 "Little kids with runny noses and loud voices. Yes, I know. I do that storytime every week." She paused, a smile spreading across her face. "Well, I guess not every week. After all, you'll be doing it all of January. Right?"
Silence. Penny chewed on another fry, figuring she'd just made this a win-win situation. Either she got to enjoy a calm New Year's Eve or she had four free weekends coming up.
Finally, Angie spoke again. "Fine. But if those diseased urchins infect me or trash the library, I'm blaming you. You know I'm no good with kids."
"I know." Penny rose from the couch, looking longingly at the rest of her dinner. But if she was going to dress and make it to the library on snow-covered roads before the program started, she had no time to waste. "I'll be there in about half an hour. Make sure you have all the necessary information and supplies ready. You'll need to walk me through what's happening when I arrive."
"You drive a hard bargain, Callahan," Angie said.
"I know," she repeated. "I'm quiet, but I'm tough."
"What's this about a pottery class? Are you hoping for some ghost sex?"
Penny considered the issue as she walked into her bedroom. "I wouldn't turn it down. I'll be sure to let you know if I'm having hot woman-on-apparition action while you read stories and sing with the toddlers. Oh, and don't forget about the crafts." She grinned.
Penny heard the background noise fade, as if Angie had moved into their workroom. "During your pottery classes, I'm going to call you and complain about what a bitch you are," her friend whispered.
"Go ahead. I won't be able to hear, since I'll be covered in clay and screwing a ghost."
Angie laughed. "Sounds messy."
Penny was about to disconnect when she heard her friend gasp. She waited a moment, but Angie didn't say anything else.
"Angie? You all right?" She could hear a deep male voice somewhere in the library. One she didn't recognize. Was someone hassling her friend?
"Yes. Very all right," Angie finally said. "Penny? Wear a nice dress and put on some makeup before you get here. If you're a little late, I'll understand."
Penny frowned. "All right. If you think I need to."
"You do. You definitely do."
"I'm not sure why I—" Penny began to say, but Angie had already hung up on her.
Okay, she thought. I can do this. Sure, it's a singles event. But I'm the librarian in charge, not a participant. I won't need to worry about dealing with men on a personal level, so my New Year's resolution isn't in danger. I just need to get in, get out, and get home. No problem.
You can purchase Broken Resolutions at:
Amazon
Barnes & Noble
Google
Books-A-Million
iBooks
Kobo.
About the Author: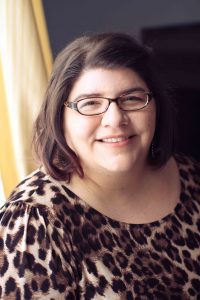 I graduated from Wake Forest University and earned my M.A. in American History from the University of Wisconsin-Madison. I worked at a variety of jobs that required me to bury my bawdiness and potty mouth under a demure exterior: costumed interpreter at Colonial Williamsburg, high school teacher, and librarian. But I always, always read romances. Funny, filthy, sweet–it didn't matter. I loved them all.

Now I'm writing my own romances with the encouragement of my husband and daughter. I found a kick-ass agent: Jessica Alvarez from Bookends, LLC. I have my own stack of books in my closet that I'd rather my daughter not read, at least not for a few years. I can swear whenever I want, except around said daughter. And I get to spend all day writing about love and iron-hard lengths.
So thank you, Mom, for perving so hard on pirates during my childhood. I owe you.
You can visit Olivia online by following this link.