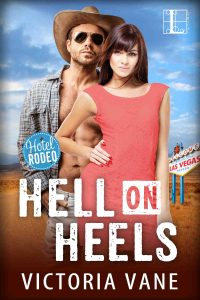 HELL ON HEELS (HOTEL RODEO #1) by VICTORIA VANE  
PLACE YOUR BET…The Hotel Rodeo in Las Vegas has seen better days, but managing partner Ty Morgan has come up with a way to return it to its former glory. His plan looks promising until the unthinkable happens. Suddenly Ty is working for the boss's daughter. And Miss Monica Brandt, hot as she may be, doesn't share his vision…
ROLL THE DICE...She left a fabulous career and a frustrated fiancé in New York to move to Vegas and save her father's investment. But now Monica is locking horns with a sexy cowboy-turned-businessman. What does Ty think he can do that she can't? All Monica knows is that she doesn't dare trust him—or is it herself she doesn't trust…
AND WIN…The battle lines are drawn. The stakes are high.  And the attraction can't be denied—especially the more closely Ty and Monica have to work together. Some odds are just meant to be played, and with chemistry this electric, it may be time to grab life by the horns…
EXCERPT:
Her gaze was even with his chin, requiring her to crane her neck. She hated the advantage his height gave him. It was the reason she always wore heels—to level the playing field. She was five foot seven. Her stilettos made her close to six feet, which allowed her to stand nose to nose with most men, and even gave her a slight advantage over Evan who was only four inches taller than she was, but Ty had her by half a head.
"The twenty grand you refused?"
"No, the ten I accepted along with the—"
"Okay," she blurted. "You already called my bluff. I'll give you the twenty. Half now and the rest in three months. I'm being square with you here, Ty. Let's make this happen." She almost groaned as Evan's favorite words spilled from her mouth. She'd been his protégé for five years. It would probably take as many for the stink to wear off.
Ty cocked his head in thought.
She waited, fighting the urge to tap her heel.
"All right," he said at last. "I can accept that deal… on the provision that I still have the last word on operations."
"Absolutely not! I'll make all the final decisions."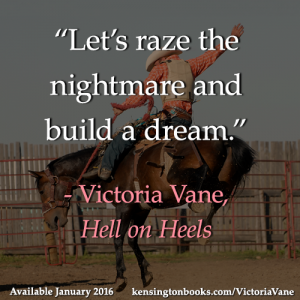 "That ain't gonna fly with me, Sugar. Tom let me have free rein. If you want me to stay, you've got to let me handle things my way."
"Equal say," she countered. "Partners. Just like you and Tom."
He shook his head. "Tom and I are like-minded but you and me? We're never going to see eye to eye on anything."
"Probably not," she agreed.
"Look, Ms. Brandt, one of us has to wear the pants in this relationship."
"Wear the pants? What chauvinistic bullshit! I can't even believe you said that!"
"Told you I'm old fashioned. 'Sides," his gazed roved slowly and suggestively down her body, "you look mighty fine in a skirt."
"Don't you know I could call you out for sexual harassment?"
"Could you now?" He stepped into her space. "Maybe you need a bit of sexual harassment, Ms. Brandt," his voice was suddenly low and smooth as silk. "As a matter of fact, I think you need a whole lot of it."
She retreated a step.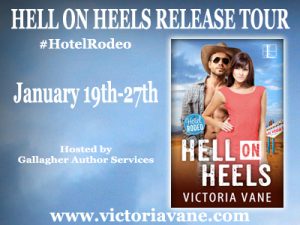 He advanced two.
"You see," he continued, backing her up to the desk, "I was raised in the belief that anything worth doing, is worth doing right."
His hands came down on the desk, braced on either side of her. His musky masculine sent washed over her, sucking the air out of her lungs. Evan wore outrageously expensive Clive Christian 1872. Ty Morgan wore "pure cowboy" vintage 1982, earthy, tangy, and tantalizing.
You can purchase HELL ON HEELS at:
Amazon, B&N, Google Play, Kobo 

About the Author:

Victoria Vane is a #1 bestselling award-winning author of smart and sexy romance. Her works range from comedic romps to emotionally compelling erotic romance and have received over twenty awards and nominations including: a 2015 Red Carpet Finalist for Best Contemporary romance (Slow Hand), 2014 RONE Winner for Best Historical Post Medieval Romance (Treacherous Temptations), and Library Journal Best Ebook Romance of 2012 (The Devil DeVere series). She currently resides in Palm Coast, Florida with her husband, two sons, a little black dog, and an Arabian horse.

Find out more about Victoria and her books at:
Email: victoria.vane@hotmail.com
Website: www.victoriavane.com
Blog: www.embracingromance.com
Facebook: http://on.fb.me/YVeXrf
Twitter: @authorvictoriav
Pinterest: http://bit.ly/1vONQZh
Amazon: http://amzn.to/10QMKT5
Goodreads: http://bit.ly/1sccsM4
YOUTUBE: http://bit.ly/1yNtEMP