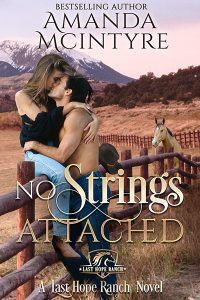 No Strings Attached by Amanda McIntyre
More is happening in End of the Line, Montana! The Last Hope Ranch was their step-dad's dream, and the Kinnison brothers made certain his legacy would continue.
~*~
Sally Andersen has spent her life teaching school kids and being a caretaker for her ailing father. Alone after five years, she sees her friends marry and start families and decides she, too, wants a family… just not in the conventional way.
Serving overseas left Clay Saunders with no leg, PTSD, survivor guilt, more pity than he wants, and no idea about his future. While recuperating at the Last Hope Ranch, he is asked to be a part of a charity bachelor auction by End of the Line's fiery redheaded music teacher, Clay doesn't expect the spark the hope of a normal life inside of him at her unusual request…
She wants a baby.
EXCERPT
Sally finished at school and made a quick stop at the Git & Go to pick up a few items for the weekend. Once home, she didn't want to have to get out again unless absolutely necessary. She admitted to being a bit of a hermit. But she'd grown used to being alone on weekends when others spent time with their families. It had been one of the reasons she volunteered in the summer and fall to give trail rides to the kids at Ellie's shelter. The thought of her last trail ride for the season and the heated confrontation with Clay Saunders reverberated still in her memory. Dirt had been slung, words said that cut deep. Neither had spoken of it since, avoiding the topic by avoiding each other as much as humanly possible.
She dropped a loaf of bread into the basket she carried and was eyeing a jar of salsa when she had the unmistakable feeling of being watched. Glancing up, she noticed Sam Tanner standing directly across from her over the shelf of chips. Sam was the owner of Tanner's Meat Market. He was a widower and handsome in a rugged way, with silver hair streaking once coal black hair and bright, blue eyes that all but sparkled in his all cowboy face.
"Miss Andersen," He replied, his thick silver moustache lifting with his smile. His gaze held hers as he tipped the brim of the dusty, brown Stetson he wore as he ambled to the register to pay for his groceries.
"Hey…Sam?" Sally said quietly, trying to determine why he seemed to act so strange. He wasn't a stranger. Sally had been going to the market for years and he'd always been friendly, very open.
This bordered on creepy.
She mentally shook her head and told herself that she was imagining things when Sam paused at the door, looked back straight at her and smiled—and yes, it was definitely charming, with a bit of sex tossed in, she was pretty sure.
"See ya around," he tossed out in his whiskey-coated voice.
Her eyes widened in surprise, but her brain couldn't find her tongue to speak. She followed his slow, swagger to his truck as she walked to the register. "You notice anything odd about Sam just now?" If there was any gossip, any scuttle butt in town the first to know would be Denise or Betty, the second, Maggie, owner of the Daily End Times newspaper.
Denise sorted through the handful of change Sally had dumped from her wallet to pay for her bread. She could have used her debit card, but she got a gleeful sense of power when she paid with cash whenever she could.
Denise rang up the item and chuckled. "Hun, you've become about as popular as the Powerball around here."
Sally's heart stilled. "What are you talking about?"
Denise had the courtesy to at least appear surprised. "The buzz around town is that you're looking for a baby daddy."
A wave of nausea assaulted her. She dropped her forehead to the cool, glass countertop. "Please tell me you're joking." She closed her eyes.
About the Author: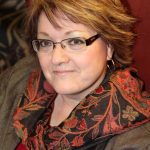 Amanda McIntyre's passion is telling character-driven stories with a penchant for placing ordinary people placed in extraordinary situations. A bestselling author, her work is published internationally in print, E-book, and audio. She writes sizzling contemporary and erotic historical romance and believes no matter what, love will always find a way.
Connect with Amanda!
WEBSITE: http://www.amandamcintyresbooks.com
FACEBOOK: https://www.facebook.com/AmandaMcIntyreAuthorFanPage
TWITTER: https://twitter.com/amandamcintyre1
GOODREADS: https://www.goodreads.com/author/show/519786.Amanda_McIntyre
AMAZON AUTHOR: http://www.amazon.com/-/e/B002C1KH2Q
NEWSLETTER: http://madmimi.com/signups/110714/join