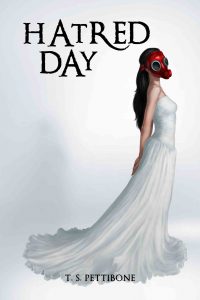 Hatred Day by T.S. Pettibone
In the year 2052, it's not love but hate that unites the world. Humanity is unified against the Inborns, an extraterrestrial species with godlike intelligence and abilities whose arrival on earth caused an environmental and biological crisis.
Enslaved and despised even by her own Inbornkind, 18-year-old Snofrid reawakens to the world after having her memories stolen and is certain of only one thing: she will do anything to ensure her freedom. But her resolution is soon tested when the son of a high-ranking human official is murdered and her home city becomes the center of the interspecies war, one that might see the Inborns purged. Desperate to find a way out of the city for herself and her family, Snofrid risks making a deal with the manipulative Inborn Commander, Hadrian, and his brutal cadre of soldiers. Her task is simple: take part in a historic hunt that will bring wealth and fame to all who survive. Unfortunately, Snofrid's role is one in which survival is rarely seen—the bait.
EXCERPT
To Buy a Girl
The Gehenna slum, Oregon
November 1, 2052
Neko was prepared to die. His hands trembled on the steering wheel of his Wrangler jeep as he neared the looming entrance of the Gehenna slum: he told himself not to be afraid. It didn't matter that in Gehenna he might be strung up by a gang or have his organs cut out and sold at the nearest black market stall for a few coppers. It also didn't matter that he was risking his life on a wild guess. All that mattered was her.
"I doubt my sister's in Gehenna, Neko," the young man in the passenger seat said. "The last place we know she went is the forest. I still think she's lost in there."
"Your assumptions don't concern me at this point, Desya," Neko replied. "We've already searched the forest—all that's left is Gehenna."
"Then maybe we should search Red Cross and Cell City again, because Snofrid's definitely not in the slum." Desya raked a hand over his high-and-tight buzz cut. "She'd break her own leg before going in there alone."
"Perhaps she didn't enter by choice."
"Look who's making assumptions now." Desya's eyes, deep-set above his half-face gasmask, hardened on the red laser gate ahead. He sat silently a while before saying, "Fine, we'll have a look in Gehenna. But we should swing by the slave auction before we check in with any of the gangs."
"How much time until the auction begins?"
"Thirty minutes."
Neko would have to drive fast. After deactivating the red laser gate using his identification tag, he accelerated onto the Infernal Highway, toward the entrance of Gehenna. Trash and clods of dry sewage clung to the highway like a railing; the stench was as foul-smelling as the slum's mass graves and as polluted as Earth's atmosphere.
By most, Gehenna was thought to be a war refugee slum just outside of Hollowstone City, but, being a doctor who'd once worked within its walls, Neko knew the truth—that only a fraction of the slum was populated by refugees. The rest were armed ex-military and thugs.
With each festering carcass Neko passed on the wayside, he accepted that death was as much a reality as his morning commute to work. He didn't know where in Gehenna he expected to find Snofrid, but, more than anything else, he hoped she wasn't hurt. He'd always considered her to be intelligent, yet wandering off and getting lost was the mistake of a child.
He rode the highway into the mouth of a dank tunnel, Gehenna's only gateway, and switched on his headlights; the beams illuminated a message scrawled in red paint on the wall of the tunnel: Abandon all hope beyond this point. His last string of optimism snapped, only his concern for Snofrid fueled him onward. He would've told her how he felt about her if his life was different. If the world was different.
"Speed up," Desya advised, eyeing the rearview mirror. "There's a gun truck on our tail."
"Shoot out its tires, then," Neko told him, who was already driving eighty-five. "When you lay down, you make yourself a carpet."
"I'd rather be a carpet than a corpse rolled up in one."
You can purchase Hatred Day at:
Amazon
https://www.youtube.com/watch?v=3mw1i_kek-k&feature=youtu.be
About the Author: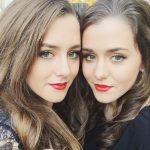 T.S. Pettibone is the pen name of identical twins, Brittany and Nicole Pettibone. They are the authors of Hatred Day, the first book in The Hatred Day Series. They were born in California on October 7, 1992, grew up in Kansas, and these days, live and write in California. On the rare occasion that they break from writing, they enjoy taking their dog on night walks, reading books by long deceased authors, drinking too much coffee and tea, traveling the world, making friends out of strangers and trying new things. Find out more about T.S. online at:
Website: http://tspettibone.com
Twitter: https://twitter.com/tspettibone
Facebook: https://www.facebook.com/tspettibone/
Goodreads: https://www.goodreads.com/author/show/14907899.T_S_Pettibone
Instagram: https://www.instagram.com/tspettibone/