I had such a wonderful time sitting down to chat with author, Erin Weidemann this evening. Her journey, and her new series are full of inspiration, faith and a true testament to being open to hearing God's word, and His plan for your life.  A full time teacher, mother, coach, five-time cancer survivor, and now author, Erin was convinced that being a wife and mother were not in her future, but she has experienced that with God nothing is impossible. Her personal experiences, seeing negative life situations used for good in her life and for others while finding her own personal destiny, inspired her to create this life-changing series that will help girls around the world fulfill their destiny as well. Erin joins me to discuss her new novel, Hannah: The Belle of Prayer, the first book in The Adventures of Rooney Cruz series.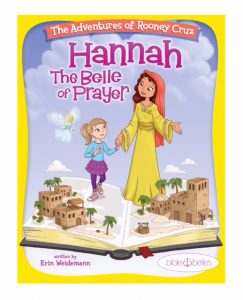 Book Blurb:
the first book of an original children's series titled The Adventures of Rooney Cruz. The series will focus on five superhero women from the Bible starting with the first book, "Hannah: The Belle of Prayer." Rooney Cruz, the main character, is a regular 9 year old girl who learns she possesses hidden superpowers, and her first adventure takes her on a journey to discover her first secret superpower: the power of prayer.
According to author and creator of The Adventures of Rooney Cruz, Erin Weidemann, "Rooney Cruz is a character who struggles through the challenges and difficult situations that most girls face as they grow up. We want to help girls identify powerful ways to approach life's challenges by highlighting real heroes, Heroes For Her™."
Click on the book cover above to listen to Erin Weidemann's podcast!
Connect with Erin on Social Media:
www.twitter.com/ErinWeidemann
www.facebook.com/erin.n.weidemann