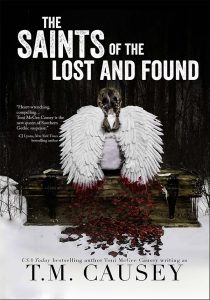 THE SAINTS OF THE LOST AND FOUND by T.M. Causey
T.M. Causey has written a southern Gothic marvel. You can feel her passion for her characters and story on every spine- tingling page. Filled  with malevolence and fervor , rich with atmosphere and suspense –  I was stunned by how original and compelling this book was!  – NYT Bestseller, M.J. Rose
AVERY BROUSSARD has the curse of seeing lost things (and make no mistake, it is a curse).  Missing belongings and beloved pets, lost relationships and opportunities—she sees it all. Long ago, that curse destroyed her chance at true love, causing her to flee her Louisiana hometown, vowing never to return.  She's kept that promise, too, until a phone call from her estranged father forces her hand. Her big brother is dying, and she may be his last remaining hope. Avery wants nothing more than to rescue her brother, but doing so pulls her into a labyrinth of lies and deceit rooted in her own lost first love and her family's twisted history.  It doesn't help that a girl has also gone missing, and the abduction is tied to a killer Avery failed to help the FBI catch.  With no time to spare, Avery realizes her curse might be the only thing she can trust.  Is it too much to hope that she might save her brother and find the missing girl before she becomes the next victim?
Follow this link to read Chapter One.
You can purchase The Saints of Lost and Found at:
Amazon
About the Author: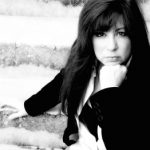 Toni McGee Causey is the author of the critically acclaimed and nationally bestselling "Bobbie Faye" novels—an action/caper series set in south Louisiana; the series was released in back-to-back publications, beginning with CHARMED AND DANGEROUS, GIRLS JUST WANNA HAVE GUNS, and WHEN A MAN LOVES A WEAPON. She is also a contributor to the USA Today Bestselling anthology LOVE IS MURDER, as well as the KILLER YEAR and the DO YOU KNOW WHAT IT MEANS TO MISS NEW ORLEANS anthologies.
While pursuing an MFA in Screenwriting, Toni had scripts optioned by prominent studios and recently produced an indie film, LA-308, which now has offers of distribution pending. Toni began her career by writing non-fiction for local newspapers, edited Baton Rouge Magazine, and sold articles to places like Redbook and Mademoiselle. In her copious spare time, she practiced her Ninja skills, though she can't prove it because no one ever saw her.
She and her husband, Carl, thrive in the French Quarter where they're not the craziest ones on the block. Sometimes they're not even second craziest. She and Carl have owned and operated a civil construction company for over thirty years [hence, the crazy], with projects all over Louisiana, Mississippi, and south-eastern Texas. They are also working on a home/remodeling project in the Quarter. Her grown sons survived her (they might say 'barely' but they don't get to write the bio, ha!), with one becoming a SWAT police officer and one becoming a Firefighter. [In other words, Toni rarely sleeps.] Meanwhile, she and Carl are absolutely frothing-at-the-mouth proud of the two g-kids and three step-ish-g-kids (it's complicated, but it's all good).
One day, when she's grown up enough, she's going to get another puppy. This may take a while.
Find out more about T.M. at:
Website
Facebook
Twitter
Pinterest