We're talking the Wilds of the Bayou series with author Susannah Sandlin, shining a Book Light on her new release Wild Man's Curse!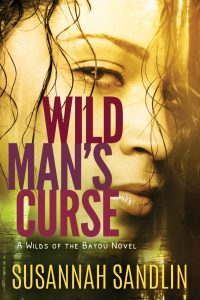 Wild Man's Curse is a series set in the deep bayou of Louisiana.
The bones said death was comin', and the bones never lied.
While on an early morning patrol in the swamps of Whiskey Bayou, Louisiana wildlife agent Gentry Broussard spots a man leaving the home of voodoo priestess Eva Savoie—a man who bears a startling resemblance to his brother, whom Gentry thought he had killed during a drug raid three years earlier. Shaken, the agent enters Eva's cabin and makes a bloody discovery: the old woman has been brutally murdered.
With no jurisdiction over the case, he's forced to leave the investigation to the local sheriff, until Eva's beautiful heir, Celestine, receives a series of gruesome threats. As Gentry's involvement deepens and more victims turn up, can he untangle the secrets behind Eva's murder and protect Celestine from the same fate? Or will an old family curse finally have its way?
We talk with Susannah about why she chose the bayou, what scary things she includes in her books and what kind of research she did.  Come with us as we learn about the Wilds of the Bayou!