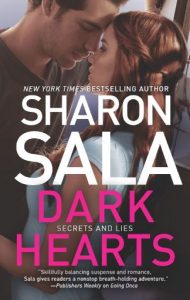 Click here to listen to the interview on podcast!
It was such a pleasure to host Sharon Sala on our new show, Book Lights- shining a light on good books!
Sharon even surprised us with news as Dark Hearts had just moved up from number seventeen on the NYT list to number fourteen! Congratulations Sharon! What an exciting moment in the show!
Dark Hearts is the third book in the Secrets and Lies trilogy.
Sharon Sala is a long-time member of RWA, as well as a member of OKRWA. She has 100 plus books in print under her name and her pen name, Dinah McCall. She is published in five different genres – Romance, Young Adult, Western, Fiction, and Women's Fiction. First published in 1991, she's an eight-time RITA finalist, winner of the Janet Dailey Award, four-time Career Achievement winner from RT Magazine, five time winner of the National Reader's Choice Award, and five time winner of the Colorado Romance Writer's Award of Excellence, winner of the Heart of Excellence Award, as well as winner of the Booksellers Best Award. In 2011 she was named RWA's recipient of the Nora Roberts Lifetime Achievement Award. Her books are New York Times, USA Today, Publisher's Weekly best-sellers. Writing changed her life, her world, and her fate.
Dark Hearts
Some lies never stay buried… 
Betsy Jakes was having nightmares, nightmares that could solve a decades-old mystery. And for someone in her small town, that meant she had to die.  
When Sam Jakes returns home to help his brother solve their mother's murder, two things shake him to the core. This crime is clearly the work of a serial killer who has struck twice before. And…Lainey Pickett is still in town. The woman he walked away from without an explanation years ago has just walked back into his life. She still holds a grudge—and his heart. 
As Sam digs deeper into the murders and thirty-year-old secrets begin to emerge, he finds himself racing against time not only to catch a killer but to keep Lainey, the only woman he'll ever love, from falling victim, too.
For more on Sharon Sala visit: www.sharonsala.com