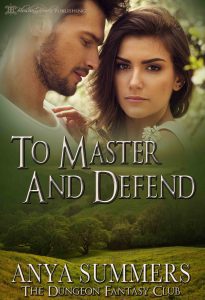 To Master & Defend by Anya Summers
Ophelia Mills is coerced by her friends into having a fashionable night out, where she discovers the newest night life destination is actually an exotic BDSM Club named Dungeon Pleasures. She's always been curious about the lifestyle, but her reserved nature has so far held her back from exploring her desires. When an over enthusiastic club goer goes overboard with his intentions and attempts to force her into submission, the club's owner comes to her rescue, defending her honor. After a scorching one night stand with her knight in shining armor, Ophelia discovers that the fantasy was one for the record books.
Tobias Ford likes his life just fine. At the helm of two successful businesses, he's a Dom with a checkered past and isn't looking for anything permanent. He's perfectly content to enjoy the submissive offerings at Dungeon Pleasures, as well as his membership in the exclusive Dungeon Fantasy Club. Then Ophelia Mills stumbles in, needing his protection, and bringing forth every dominant urge he possesses. After a torrid night he cannot forget, he devises a campaign, laying siege to her heart even as he spanks her bare bottom for disobedience. With every one of her pleasured cries, Tobias falls further under Ophelia's spell as she surrenders to his mastering.
As he indulges her newfound carnal appetite, Ophelia will have to face old hurts, and decide whether or not she can trust him with the most precious of gifts…
EXCERPT:
What the hell had she gotten herself into this time?
"Of all the…" she muttered under her breath as she gripped the wooden handrail on the bar. The club's boisterous crowd jostled Ophelia on her barstool; the movement skewed the aquamarine feathers of her mask so that they tickled her nose.
Reaffixing her disguise so that she didn't inhale feathers, she assessed Dungeon Pleasures. End of Summer Masquerade Party her foot, it was more like an excuse to fondle, ogle, and show everyone your naughty bits. Its tagline should have read, 'debauchery central, if you want it, this is the place to get it'. 'It' meaning sex. This club was a place for the wilder LA crowd to break out their leather gear. Ophelia didn't think she'd ever seen so much leather and spandex in one place, nor so many nipples. Women and men displayed their cleavage wrapped in clamps, jewelry, or spilling out of leather corsets—or all three. And she wasn't even going to mention the barely-there skirts or number of people going commando. There was a cowgirl strutting herself in assless chaps. She hadn't known until tonight that they made assless chaps, but apparently, they do.
A resounding bass pumped out of the sound system and that, combined with the sweaty mix of gyrating, oversexed bodies getting their groove thing on out on the dance floor, was enough to send Ophelia scurrying for the hills. She'd rather be at home, curled on the couch with a good book, than in the midst of this sexual feeding frenzy. She liked sex; she did, but she had never been into overt displays. She was more the fine wine, candlelight and lingerie type, than the leather studded corset type.
So why was she here? Besides the crushing amount of guilt she needed to assuage. Ophelia turned Anna and Molly down for attending social functions ninety-nine percent of the time. It wasn't that she didn't like her friends—she did—but she also far enjoyed her own company above the overcrowded, over-stimulating clubs her peers seemed to adore without question. There really was something erroneous about her attitude toward social interaction. She knew it, but didn't believe there was a fix for it. Crowds made her uncomfortable and filled her with anxiety. And, if she were honest, most clubs bored her to tears, even ones with ample amounts of bared flesh on display. Although Dungeon Pleasures did take the cake for the sport of people-watching. Yet Ophelia far preferred her books than the bump and grind she was presently witnessing. That was where the world made sense, where men behaved with honor and dignity, sent you a calling card so you knew from the start what their intentions were toward you.
Dating was something Ophelia had never seemed to get the hang of, not in high school, not in undergrad, and certainly not now. She'd had boyfriends, who had skedaddled the moment they realized she was more interested in her books that she was in them. Sad, really, when she thought about it.
The only reason she had come tonight was because lately, she'd been feeling like she was nearly coming out of her skin she was so desperate for physical contact. In other words, she wanted sex, with no strings attached. She didn't have the time necessary to cultivate a relationship. Her end game was sex. Really hot, she might need to fan herself with an Austen novel, pulse-pounding sex. She wasn't a virgin or a prude but found most men lacking in this department. Then again, the deficiency could be in her, and maybe she just needed to order that super deluxe vibrator she'd found online, the one that promised its purchaser hours of pleasure. At the rate Ophelia was going, she'd be happy with five minutes. Between school and classes, she had little time to develop the necessary foundation for a relationship, when what she truly desired from a man at this point in her life was a few good orgasms. Was that really so wrong of her? She was just shy of her twenty-fifth birthday. Her peers were all having copious amounts of one night stands, it was what all the women her age were doing now anyway, and she wanted just one night to sustain her while she finished her masters. Then there were the myriad online dating sites she'd perused the other night, the same night on which she'd found the all-star goliath of vibrators. Ophelia had inspected the dating profiles and groaned, and not in a good way—those damn sites were the reason why she considered the men in her books a better, safer bet.
She had one measly year left before earning her master's degree in eighteenth century literature. Then roughly three to six years to earn her doctorate, depending upon how long it took her to write her dissertation. Once she reached that milestone, had those three letters added to her name, then she could have a real life, but until that time, she didn't know how to balance a relationship with the demands of her career. When she wasn't in class, she was teaching undergraduate classes at the university, or studying. That was it; the entire substance of her life was English literature. Her robust work ethic was something her parents and her older sister had instilled in her. She couldn't let them down.
Ophelia had assumed that, with her friends' penchant for discovering the latest hot clubs, she'd have a chance to mingle and find a reasonably attractive man, have some hot hanky panky and be done with it. Itch scratched—no harm, no foul. Not that she'd ever been good at the whole sex thing, as most of the interludes she'd experienced had left her sadly wanting something she couldn't name. Her sexual experiences had been pleasant diversions, but that wasn't what she craved. She wanted no holds barred passion. She wanted to be taken by a man who knew what the hell he was doing. Her fantasies of late had been disturbingly carnal.
You can purchase To Master & Defend at:
AMAZON
About the Author:
Born in St. Louis, Missouri, Anya grew up listening to Cardinals baseball and reading anything she could get her hands on. She remembers her mother saying if only she would read the right type of books instead binging her way through the romance aisles at the bookstore, she'd have been a doctor. While Anya never did get that doctorate, she graduated cum laude from the University of Missouri-St. Louis with a M.A. in History.
Anya is a #1 Amazon Bestselling and Award-Winning Author published in multiple fiction genres. She also writes urban fantasy and paranormal romance under the name, Maggie Mae Gallagher. A total geek at her core, when she is not writing, she adores attending the latest comic con or spending time with her family. She currently lives in the midwest with her two furry felines.
Visit her website here:
www.anyasummers.com
Amazon Author Page:
www.amazon.com/author/anyasummers
Visit her on social media here:
http://www.facebook.com/AnyaSummersAuthor
Twitter: @AnyaBSummers
Don't miss these exciting titles by Anya Summers and Blushing Books!
Dungeon Fantasy Club Series
Her Highland Master, Book 1, April 15, 2016
To Master & Defend, Book 2, May 15, 2016
Two Doms for Kara, Book 3, June 12, 2016
His Driven Domme, Book 4, July 2016
Her Country Master, Book 5, August 2016
Love Me, Master Me, Book 6, September 2016
Submit To Me, Book 7, October 2016
Her Wired Dom, Book 8, November 2016