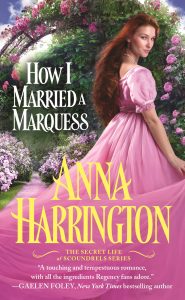 Join Debra Parmley on Book Lights this week as we step back into the Regency Romance era with her guest Anna Harrington.   Listen here Tue. night 8:30 eastern!
HOW I MARRIED A MARQUESS
A SHOCKING DECEPTION . . .
Josephine Carlisle, adopted daughter of a baron, is officially on the shelf.  But the silly, marriage-minded misses in the ton can have their frilly dresses and their seasons in London, for all she cares. Josie has her freedom and her family…until an encounter at a house party with a dark, devilishly handsome stranger leaves her utterly breathless.  His wicked charm intrigues her, but that's where it ends.  For Josie has a little secret…
. . . LEADS TO AN EXQUISITE SEDUCTION
Thomas Matteson, Marquess of Chesney, excelled at espionage—until a tragic accident cost him his career.  Now to salvage his reputation and return to the life he loves as a spy, the marquess must find the criminal who's been robbing London's rich and powerful.  He's no fool—he knows Josie, with her wild chestnut hair and rapier-sharp wit, is hiding something and he won't rest until he unravels her mysteries, one by one.  But he never expected to be the one under arrest—body and soul…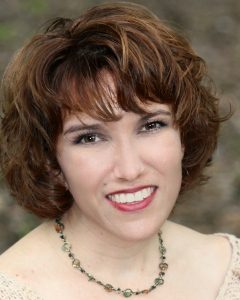 Anna fell in love with historical romances—and all those dashing Regency heroes—while living in London, where she studied literature and theatre. She loves to travel, fly airplanes, and hike, and when she isn't busy writing her next novel, she loves fussing over her roses in her garden.
Visit her website at www.AnnaHarringtonBooks.com or follow her at @aharrington2875.
Book Lights – shining a light on good books!
Tuesday nights with host Debra Parmley. http://www.debraparmley.com