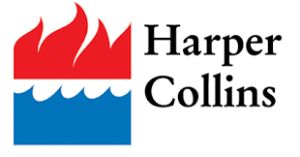 From HarperCollins Press Release:
HarperCollins today announced weekday programming for book lovers exclusively through Facebook Live. Starting Monday, June 6, HarperCollins fiction and nonfiction authors and employees will be participating in daily Facebook Live sessions around specific topics, each lasting between 15-45 minutes. The line-up will feature authors discussing their books and their writing process, and taking questions from fans – live from their homes, the HarperCollins offices, bookstores, on walking tours, and beyond. The sessions will appear on the authors' Facebook pages, as well as on the HarperCollins Book Studio 16 Facebook page and other HarperCollins channels.
"We are thrilled to launch daily programming of HarperCollins authors through Facebook Live," said Lisa Sharkey, senior vice president and director of creative development at HarperCollins. "This is an amazing way for fans to interact with authors and get a look behind the scenes of publishing. We are always seeking new ways to engage readers and expand the reach of our authors and Facebook Live is an exciting new approach."
The programming for each day of the week will have a different theme:
Motivational Mondays will be for inspirational authors and feature self-help, religion, spirituality, fitness and generally uplifting themes. Authors will actively engage with their fans in various ways, from demonstrating exercise routines to helping them learn to meditate. Participating authors include:

Marianne Williamson (Tears to Triumph), internationally acclaimed author, speaker, and activist
Sue Hitzmann (The MELT Method), creator of the MELT method, a revolutionary self-treatment to help with chronic pain
Lindsey Vonn (Strong Is the New Beautiful), Olympic gold medalist

Temptation Tuesdays will showcase cookbook authors and food topics. Participating authors include:

Comedic mom blogger Karen Alpert (I Heart My Little A-Holes and I Want My Epidural Back)
Celebrity chef and cookbook author Candice Kumai (Clean Green Eats)
Dr. Josh Axe (Eat Dirt), nutritionist and doctor of natural medicine
Bestselling author Susan Wiggs (Family Tree)

Writerly Wednesdays will be for writer workshops. Participating authors include:

Romance writers Eloisa James and Lisa Kleypas discussing everything from plot and character development to answering fans' questions about their next book or the writing process
Adriana Trigiani (All the Stars in the Heavens), who will be taking fans on a live walking tour of Greenwich Village

Truthful Thursdays will feature non-fiction authors, from psychologists and business experts to celebrities and historians. Participating authors include:

Negotiation expert Chris Voss (Never Split the Difference) sharing his business skills
Tattoo artist Keith "Bang Bang" McCurdy (Bang Bang) inking live
Celebrity dog Toast (ToastHampton) going for a walk with her owner Katie Sturino
One of America's most decorated fighter pilots, Dan Hampton (The Hunter Killers), coming to you live from inside the cockpit

Free-For-All-Fridays will provide an inside look at publishing. Sessions will feature:

HarperCollins employees across all departments (editorial, marketing, cover design, etc.) talking about the publishing business, including live discussions from the desks of publishers
The current line-up of authors also includes: Rumaan Alam, Bobby Bones, Jessie Burton, Rachel Felder, Dorothea Benton Frank, Melissa Fay Greene, Michael Harvey, Betsy Lerner, Peggy Orenstein, Rob Sheffield and Simon Van Booy to name a few.
Fans can visit Book Studio 16 to view the complete calendar or follow #harpercollinslive on Facebook to keep track of upcoming HarperCollins Facebook Live sessions.