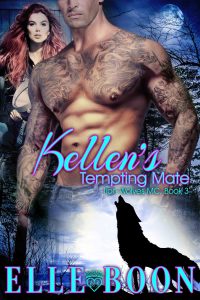 Today, Reader's Entertainment is excited to welcome author Elle Boon.
First, tell us a bit about yourself. Where you're from, where you live? Do you have one of those day-jobs?
I live in what I like to call "Middle-Merica" aka in a small town just north of Kansas City Missouri.
How long have you been writing?
I have been writing for just over four years now, but only published for over 2 ½ years.
Briefly describe your writing day.
My day varies. I usually get up. Get the liquid of the gods…COFFEE, then I will read emails, log onto FB and after I'm awake I will either write, edit, or more often than not spend waaaayyy too much time scrolling through the Facebook lol.
Tell us about your latest release?
I just released the first book in my cross-over series Delta Salvation. You met these guys in my Iron Wolves, but I tried to keep the paranormal elements out of this series and focus on Navy SEALs. I'm told I did a really good job of it <3 My next release is the 3rd book in my Iron Wolves, Kellen's Tempting Mate which releases on May 24th and let me tell you it is a total kickass story from beginning to end. When I started it, I had no idea where it was going to take me. As with all my stories, I'm a total pantster. I basically know who my characters are going to be, what the main plot is, and what the big conflict is going to be. I also know there will ALWAYS be a happily ever after at the end. What happens in the middle is a surprise for me since I just sit down and write it scene by scene. It's great that way lol.
Are your characters entirely fictitious or have you borrowed from real world people you know? My characters are somewhat a little of both. I take little bits of my friends and create my beloved characters. Sometimes it's personality, or things they say, or things I say, and the character will say them. I think it makes the characters come alive more when I can relate to them that way.
Where did you get the idea from?
I get ideas for my books from everywhere. Like seriously… my mind never stops working on plots and scenes. I can hear a song, and there can be one line that resonates with me and BAM I picture a scene from it.
Would you share one detail from your current release with readers that they might not find in the book?
Hmm. That is hard, because I think I draw a pretty detailed picture. However, in Delta Salvation the bad guy is an ex-team member named Jase Tyler. Some think he was killed in an explosion, while I've had some readers thinking he is still alive. I haven't decided which I'm going to do with him yet, which is why I left it kind of sketchy.
Who has been the most difficult character for you to write? (Any of your books)
Oh, book 3 in my SmokeJumpers for sure. Brax and Myra. They just shut up and stopped flowing for me. Damn them J I hope to re-read books 1&2 and hopefully get the characters to start speaking again.
If you could be one of your characters for a day which character would it be? Why?
Oh, I would love to be one of my Ravens from my original series. I love them sooo hard. When I get my rights back in 2019, I plan to repub and finish that series. Why would I want to be them? Because they are beyond super awesome. They are demi-gods who are older than time, have super powers, and are very hot lol. Oh, and they totally kick ass.
What are you working on now?
I am working on several projects. Book 3.5 in my Iron Wolves sort of. It's a crossover maybe. You will meet a group of hybrid vamp/lycans in Kellen's Tempting Mate. Their little sister is getting a story which is going to be in an anthology project I'm involved in called Angels and Demons. It's gonna be awesome. However, book 4 in my Mystic Wolves will come out before that one, it's going to be Bronx and Talia's book. Let me tell you I'm loving this book 3.5 of the Iron Wolves. Oh, and it's a ménage woop.
We all know how important it is for writers to read. Are there any particular authors that have influenced how you write and, if so, how have they influenced you?
Desiree Holt is by far the biggest supporter of me. Without her I don't know where I'd be today.
If you could have dinner with any writer living or dead, who would it be and why? I'd love to have dinner with Diana Palmer. I know…so weird, but I love her and she was the first romance book I read when I started reading again just over 10 years ago lol.
Do you have a secret talent readers would be surprised by?
I can still do the splits and touch my head with my foot from behind. Basically, I'm still really bendy <3
Your favorite go to drink or food when the world goes crazy!
Coffee, or sweet Moscato wine <3
What is the one question you never get ask at interviews, but wish you did? Ask and answer it.
I never get asked what I'd do when or if I hit the NY Times Best Seller List. The answer is this. I'd scream and cry like a little girl, then I'd post all over social media thanking everyone, while crying, and then make my hubby take me out to eat for Japanese Hibachi Grill. I'm really easy to please lol.
Here's a blurb from Kellen's Tempting Mate – Iron Wolves Book 3
A NOT SO NAÏVE SHE-WOLF: Laikyn O'Neil has loved Kellen for years. Thinking to prove her love, she sets out to learn how to be a good submissive, only to find herself needing a savior.
THE RELUCTANT ALPHA: When Kellen Styles finds Laikyn in the last place he expected, he rides to her rescue, but then can't stop his dominant needs from taking over. Sure that he has moved too soon, he backs off to give Laikyn time to come to terms with the fact that they are mates. Instead she leaves, thinking he didn't want her.
AN UNDENIABLE BOND: Kellen is determined to claim his tempting mate and earn her forgiveness, and nothing and no one will stand in his way. When their world is suddenly rocked off its axis by vampires, fey and more, their pack will have to unite with these strangers in order to defeat the beings that threaten those they love.
You can purchase Kellen's Tempting Mate – Iron Wolves Book 3 at:

Learn more about Elle, her books and upcoming releases at:
www.elleboon.com
https://www.facebook.com/elle.boon
https://www.facebook.com/pages/Elle-Boon-Author/1429718517289545
https://twitter.com/ElleBoon1
http://www.amazon.com/Elle-Boon/e/B00K03HY42/ref=sr_tc_2_0?qid=1415849092&sr=1-2-ent
 https://www.facebook.com/groups/1405756769719931/
 https://www.facebook.com/groups/wewroteyourbookboyfriends/
https://www.goodreads.com/author/show/8120085.Elle_Boon
www.elleboon.com/newsletter
https://www.bookbub.com/authors/elle-boon
https://www.instagram.com/elleboon/