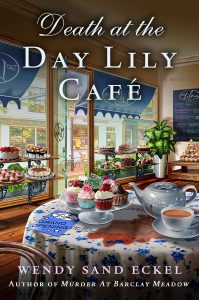 Book Lights Host Debra Parmley chats with author Wendy Sand Eckel about her new Rosalie Hart mystery series and her newest book Death at the Day Lily Cafe!
Death at the Day Lily Cafe:
Rosalie Hart has finally opened the café of her dreams. Decked out with ochre-tinted walls and stuffed with delicious organic fare, the Day Lily Café is everything Rosalie could have hoped for. But not five minutes into the grand opening, Doris Bird, a dear and trusted friend, cashes in on a favor–to help clear her little sister Lori of a first degree murder charge.
With the help of her best friend and head waiter Glenn, Rosalie is on the case. But it's not going to be easy. Unlikable and provocative, murder victim Carl James Fiddler seems to have insulted nearly everyone in town, and the suspect list grows daily. And when Rosalie's daughter Annie gets caught in the crossfire, the search for the killer becomes personal in this charming cozy perfect for fans of Diane Mott Davidson and Joanne Fluke.
Pre-order Death at the Day Lily Cafe here!
About Wendy:
Wendy Sand Eckel is the author of Murder at Barclay Meadow, the first in the Rosalie Hart mystery series set on Maryland's Eastern Shore. A member of the Mystery Writers of America, she has degrees in criminology and social work and a passion for words and their nuanced meanings. Death at the Day Lily Café, the second in this series, will be released by Minotaur Books July 26, 2016.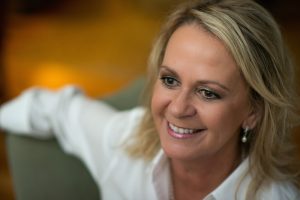 For more about Wendy Sand Eckel visit www.wendysandeckelauthor.com
Trailer for Death at the Day Lily Cafe
and Debra Parmley the host of Book Lights at www.debraparmley.com
Book Lights – shining a light on good books!