Christine Feehan has had 16 of her novels listed as a #1 best seller on various lists, 14 of which were on the NY Times.  She is a third degree black belt who taught martial arts for twenty years.  Today we'll be talking to her about her first experience at ThrillerFest, meeting her idols, advice to aspiring writers, her new Shadow Rider series, her upcoming Dark Carousel and what her daily life is like that allows her to write so many books each year.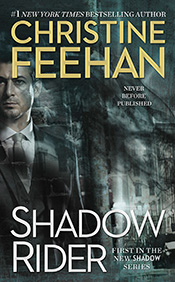 Dark Series– The series that launched her career and had Time Magazine crediting her, Anne Rice and Joss Whedon for the return of the vampire story.  Her Carpathians are immortal vampire hunters who, if they do not find their lifemate, can turn vampire themselves or must destroy themselves.
GhostWalker Series – Military thrillers with a paranormal element. Soldiers with some psychic ability are enhanced, but the outcome was more than the government ever foresaw.   This series has a great deal of research into the sciences and could be labeled scifi, but is considered a thriller or paranormal romance.
Sea Haven Series– Includes both her Drake Sisters and Sisters of the Heart books.
Leopard Series- Shape shifters with high action and high sensuality.
Shadow Series– Newest series has just started with Shadow Rider released this month. Assassins who can travel using shadows.