His Driven Domme (The Dungeon Fantasy Club Series, Book 4)
Jesse Noble loves fast cars and even faster women. A professional race car driver, he's used to being in the driver's seat, until a devastating loss on the track forces him to walk away from the only life he's ever known. After months of rehab and soul-sucking depression, Jesse heads to his friend's place in Scotland, thinking a month or two of indulging in the fleshy delights of the Dungeon Fantasy Club will help him maneuver the road to recovery more than any painkillers.
Lucy Martin is the mistress and commander of her world. Labeled an 'Ice Queen' by her co-workers, she hides her tender and passionate heart from the world, even as she hopes to one day find a man who will help soothe her shattered heart. Now her best friend Zoey, the only person on the planet Lucy can confide in, has gone AWOL and left the country for some Scottish laird. On a mission to rescue her BFF, Lucy travels to Mulladoch Manor and has her world turned on its axis; finding herself in an exclusive BDSM club where she feels right at home.
When the dominant Jesse spies the luscious Lucy sporting four-inch stilettos and leather in the Dungeon Fantasy Club, he surrenders to a night of mind-blowing ecstasy, her caresses somehow driving away every one of his inner demons with supreme skill. In the race of his life, Jesse moves out of the driver's seat and willingly becomes her passenger – if only she'll continue tying him up and paddling his bare ass into the most erotically charged, world altering orgasms he's ever experienced.
When their past secrets are revealed, Jesse will have to convince Lucy to enter the fast lane with him – and prove that he's willing to submit to all of his Domme's utmost desires. Can he make the ultimate sacrifice and give up control – for love?
EXCERPT:
Lucy in a sea of clubgoers was suddenly alone in the crowd. Her shoulders straight, she dared any man, any Dom, to try and cart her off to one of the scene areas to be disciplined. She'd have their balls in a vice grip before they could even utter a command. Many of the Doms present recognized her authority and command as an equal, cutting a wide berth around her as she prowled up to the bar.
The butler, Jared, was behind the bar and she almost hooted at the shocked look on his face.
"What can I get ya?" he bit out, clearly not over his snit from earlier, and he neither conceded defeat nor backed down. She had to respect the attitude. Like always recognized like, so instead of blustering, she gave him a slight nod of recognition; one Domme to another. He understood the gesture and, hell, was that respect gleaming in his yummy eyes?
"Glass of chardonnay."
She noticed that he grabbed a bottle of the stuff she and the girls had been drinking earlier, raising him up a few notches in her esteem.
"How did you get down here, anyway?" he asked as he set a glass of wine in front of her.
"Zoey," she replied, studying his reaction as she lifted her glass. His face traveled from surprise, to joy, to pissed off Dom in all of two seconds.
"I'm going to tan her hide," she heard him snarl.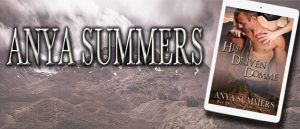 "Afraid Declan already beat you to the punch, J-man." On every front, she thought, watching his reaction as he located Zoey bent over the spanking horse. There was love and affection hidden under the hard Dom exterior. Lucy could only hope that his feelings for Zoey would diminish.
"I should tan yours as well, for being here uninvited," Jared threatened, in what he must consider his big bad Dom tone of voice. Probably made most subs quake in their boots; problem was, she wasn't a sub. Far from it.
"Oh honey, I'd have your balls twisted in a clamp before you laid a finger on me, but you're welcome to try," she dared as she leaned into the bar and continued, "And I have a killer ass."
Deep, scruffy male laughter guffawed from a barstool to her left. "She's got you there, Jared, on both accounts."
Then Jared, looking for all the world like he wanted nothing more than to lay into her behind with a switch, stepped away from the bar. He had a singular destination in mind stamped across his features; her best friend. God, she hoped she'd done the right thing there, egging him on that way. Maybe they could have a successful polyamorous relationship and Zoey and Declan could still be a married couple.
"Nice. I haven't seen Jared worked up like that in a long time. Thanks for livening the place up a bit."
"Anytime." She swiveled her head with an unrepentant smile plastered to her face and almost choked on her sip of wine.
Wowzers! What have we here?
Publisher's Note: While this is the fourth installment of Anya Summer's Dungeon Fantasy Club series, like all the books in the series, it can be read as a standalone. It contains explicit sexual themes including anal play and BDSM elements, as well as femdom scenes. If such material offends you, please do not purchase.
You can purchase His Driven Domme at:
Amazon https://goo.gl/S1pTsn
Blushing Books http://goo.gl/4sCo5r
Kobo https://goo.gl/yAGqQb
About the Author:
Born in St. Louis, Missouri, Anya grew up listening to Cardinals baseball and reading anything she could get her hands on. She remembers her mother saying if only she would read the right type of books instead binging her way through the romance aisles at the bookstore, she'd have been a doctor. While Anya never did get that doctorate, she graduated cum laude from the University of Missouri-St. Louis with a M.A. in History.
Anya is a #1 Amazon Bestselling and Award-Winning Author published in multiple fiction genres. She also writes urban fantasy and paranormal romance under the name, Maggie Mae Gallagher. A total geek at her core, when she is not writing, she adores attending the latest comic con or spending time with her family. She currently lives in the midwest with her two furry felines.
Visit her website here:
Amazon Author Page:
www.amazon.com/author/anyasummers
Visit her on social media here:
http://www.facebook.com/AnyaSummersAuthor
Twitter: @AnyaBSummers
Don't miss these exciting titles by Anya Summers and Blushing Books!
Dungeon Fantasy Club Series
Her Highland Master, April 15, 2016
To Master & Defend, May 15, 2016
Two Doms for Kara, June 12, 2016
His Driven Domme, July 15, 2016
Her Country Master, August 17, 2016
Love Me, Master Me, September 16, 2016
Submit To Me, October 15, 2016
Her Wired Dom, November 14, 2016