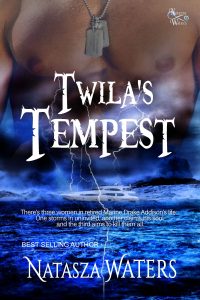 Join us on Book Lights Radio August 2nd 8:30 p.m. EST when host Debra Parmley chats with author Natasza Waters about her latest book Twila's Tempest and her military experiences.
Listen here Tue. night 8:30 eastern!
About Twila's Tempest:
Drake Addison, retired Marine, understands the dangers of the sea, but there's a storm coming, and she's all of five foot three.
A dark horse among the Treasure Coast's elite, Drake's passion and wealth tempt him. His first love is building yachts. Meeting Twila, he sees she has a passion as well—caring for the elderly, including his parents, but she's trapped.
Like unearthing a gold doubloon, with one kiss from Twila, he craves a thousand. He makes an excuse to remain in Port St. Lucie and teach Twila about the sea. His mistake: misjudging the heart of one woman, the soul of another, and the ferocity of the one headed their way.
Sometimes, a little knowledge is dangerous, but for Twila—it's deadly.
About Natasza:
I grew up on the beautiful west coast of British Columbia with the Pacific Ocean on my western doorstep, and thousands of acres of forest on the other. After finishing school, my life took a drastic twist, and a lifelong working relationship with the marine industry began.
After a twenty-year hiatus from my creative writing, the stories swirling in my mind began to swim hard to resurface, and I threw them a life ring. I juggle my creativity during my days off, and then get back down to business, working in Vancouver Harbour. My life is a mix of creativity vs. black and white procedures. With a lifetime of working in the marine community, there's plenty of stories to tell. It's a different world, different language, unsung heroes and heroines aplenty, heated moments, and blissful silence when all is well. Reading and writing is the way I turn down the loud hum that my work causes, and after thirty years of humming, it's time to vent.
To learn more about Natasza visit www.nataszawaters.com
Natasza's Newsletter (PS I only send quarterlies) 
Natasza on Facebook  and Facebook author site
Twitter Natasza on Twitter
Email: Nataszawaters@gmail.com
and for more about the host of Book Lights, Debra Parmley visit www.debraparmley.com
Book Lights – Shining a light on good books!